99 days and counting, Pritom still in jail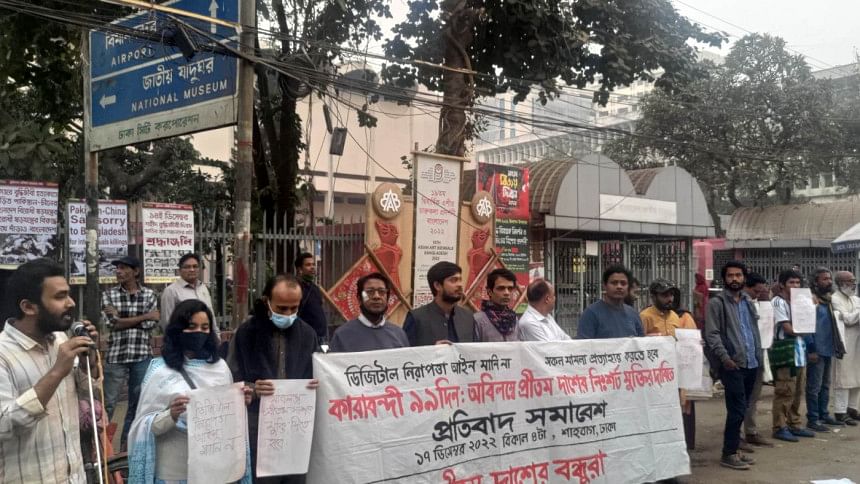 It has been 99 days and counting that Pritom Das, a political activist, has been in the jail without committing a murder, rape, or any major crime like forgery, said his friends and colleagues yesterday at a human chain demanding his immediate release.
A member of Rashtra Sangskar Andolan, Pritom was arrested for expressing his solidarity with the tea workers in Moulvibazar, who were waging a movement to raise their daily wage, said the speakers in front of the National Museum at Shahbagh.
The speakers said that Pritom only made a post mentioning a quote from famous writer Saadat Hasan Manto on July 8 and was booked over the post for allegedly "hurting religious sentiments" in September under the controversial Digital Security Act.
They also demanded to abolish the Digital Security Act.
The speakers said that the reason behind his arrest was not for hurting religious sentiment, but for publishing the names of the attackers from the ruling party's student wing, Chattra League, who attacked them in a solidarity protest in presence of police on August 27.
Three days after the incident, and 52 days after the appearance of the Facebook post, Chattra League activist Abed Hossain, who was among the attackers, brought the allegations of insulting Islam against Pritom.
Hasnat Quaiyum, chief coordinator of Rastra Sanskar Andolan, said that they made the last bail petition to the lower court on November 29 and were denied.
"But till today, we didn't get the judgement copy of the petition to go to the high court as the judge didn't sign the judgement copy for 16-17 days," he said. "It means, we are living in a country, where a man has to remain in jail since a judge is yet to sign the judgement's copy for 16-17 days."
Cultural activist Mofizur Rahman Laltu said, "What crime Pritom has done? He didn't murder anyone, didn't rape, didn't loot a bank, didn't grab anyone's land. The only crime he committed is that he stood beside the tea workers who were leading a life of bonded labour for years."
During the time while the human chain was conducted, there were huge traffic jam due to the victory rally organised by the ruling Awami League. Mentioning that, Laltu said, "If Pritom stood beside the victory rally, he would be praised … the laws are not equal for everybody."
Writer Rakhal Raha said the DSA is being used to control the voice of protests and harass the anti-government people.
Rights activist Marzia Prova conducted the event while researcher Mahtabuddin Ahmed, activist Dr Harunor Rashid, general secretary of Bangladesh Chhatra Federation Saikat Arif, general secretary of Gonotantrik Chattra Council Fahim Ahmed Chowdhury, general secretary of Biplobi Chattra Moitry Dilip Roy, also spoke.