800 BNP men sued, 37 arrested in Khulna over clash with BCL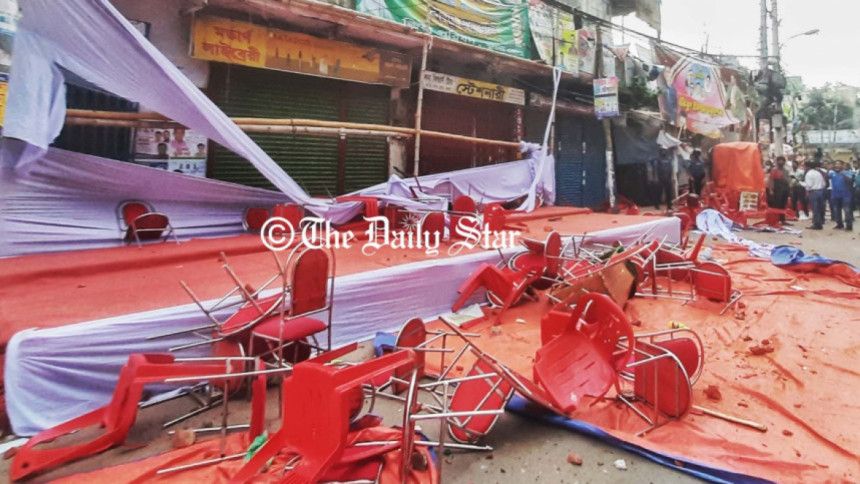 Police have filed a case against nearly 800 BNP men, including Khulna city BNP Member Secretary Shafiqul Alam Tuhin, in connection with yesterday's clash between local leaders and activists of BNP and Bangladesh Chhatra League (BCL) men in Khulna that left over 50 people injured.
Biswajit Kumar Bose, sub-inspector of Khulna Sadar Police Station, confirmed the development to our Khulna correspondent.
SI Bose said he filed the case against 92 named people, including Shafiqul Alam Tuhin, and 708 unidentified people with the police station last night.
The case was filed against them for vandalism, obstructing police from discharging government duties, and injuring 14 people by attacking police, added the police official.
Both BNP and BCL had separate programmes at nearby venues yesterday which eventually led to the clash between activists of the two groups. At least 50 BNP men and 15 BCL activists were allegedly injured in the clash.  
At one stage of the clash, police alongside BCL men also vandalised a few chairs at the rally, witnesses said.
Following the incident, at least 37 BNP men, including Khulna Metropolitan BNP Member Secretary Shafiqul Alam Tuhin, were arrested.
Three journalists were also injured during the incident.