77pc women victims of online abuse
Finds ActionAid Bangladesh, Prothom Alo survey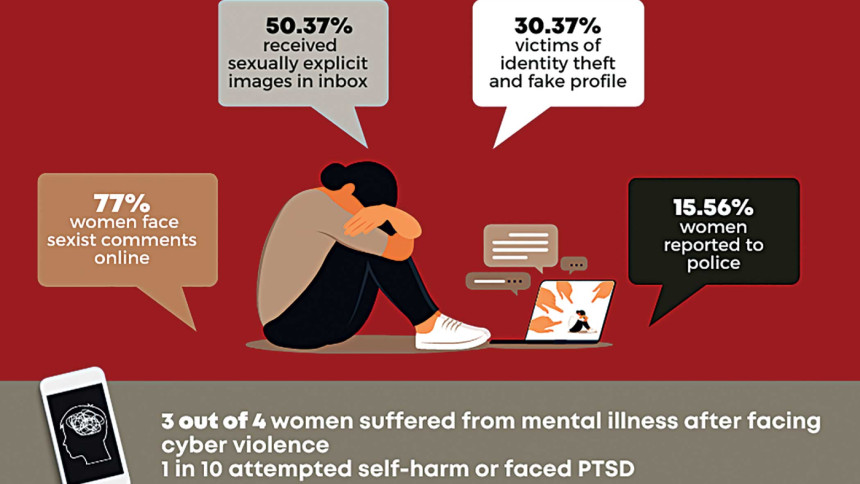 Seventy-seven percent of women faced sexist or misogynistic comments online, while 50.37 percent received explicit images in their inbox, revealed a recent survey.
It was also found that 30.37 percent of women were victims of identity theft and fake profiles, while 23.70 percent faced non-consensual dissemination of intimate photos; 19.26 percent faced cyberstalking and 14.07 percent received threats of sexual harassment for supporting the LGBTQ community.
During the Covid-19 lockdown, one in every two women faced more cyber-violence compared to pre-pandemic times, it revealed.
The findings of the survey were presented yesterday at a roundtable titled "Online Violence against Women:
Challenges and way forward", organised by ActionAid Bangladesh, in partnership with Bangla daily Prothom Alo.
The survey also found that three in every four women suffered from mental illness, such as depression and anxiety, while two out of every five women felt insecure after facing cyber violence. Alarmingly, one in 10 victims attempted suicide or self-harm or suffered from post-traumatic stress disorder (PTSD).
Additionally, 34.81 percent of women also said they lost their self-esteem and dignity after becoming victims of cyber violence, while 31.11 percent suffered immediate and long-term physical problems, like gastrointestinal and central nervous system disorders, chronic pain, insomnia, etc.
Such violence also forced 30.37 percent to reduce their online activity, which resulted in digital exclusion, the survey also found.
The percentage of women who reported sexual harassment online was comparatively low: only 23.70 percent  took no action out of fear, after such an incident, while 13 percent treated it casually.
Only 15.56 percent reported the incidents to police; 2.22 percent reported them to lawyers, while 43.40 percent shared them with their friends and parents.
In terms of making formal complaints, more than half of the respondents of the survey complained to the government's cybercrime investigation division, while only 31.6 percent complained to the nearest police station, and 15.8 percent called the national emergency helpline 999.
No respondents called 109, the national helpline centre for violence against women and children.
Among those who did not complain, 47.41 percent said making a formal complaint does not help, 43.10 said they were not sure about the outcome, while 30.17 percent said they didn't know where to file a complaint.
Besides, many did not complain fearing the stigma and further harassment.
The survey questionnaire was promoted among women through Facebook, and a total of 269 women responded.
The survey respondents recommended developing a coordinated strategy with the existing government reporting options.
They also recommended creating a chatbot in every app and website for violence reporting, run by Bangladesh Police and Ministry of Women and Children Affairs, to make mediums to file complaints more accessible to teenage victims, many of whom prefer chatting over calling a number.
Additionally, they suggested developing specific communication materials for different social media platforms using simple language and infographics to raise public awareness about online violence.
Taslima Yasmin, associate professor of law at Dhaka University, said ensuring orientation of the parents and teachers in schools is crucial regarding the safe use of the Internet.
"We don't want our girl children to discontinue the use of the internet due to the lack of cyber security," she added.
NIjera Kori coordinator Khushi Kabir said there should be a powerful social support system so that survivors know they can seek assistance if and when they need it.
"We also need to think about how we can hold Facebook accountable [for allowing hate speech]," she said.
Barrister Sara Hossain, honorary executive director of Bangladesh Legal Aid and Services Trust (BLAST), said, "Although the lawyers are supposed to provide legal support to the victims, they are not coming for help because on our end many of us don't know what kind of responses should be provided [in cases of cyber violence]."
Lawyers usually urge the victims to file a case, but in such cases, filing a case will not bring any effective solution. Rather, there is a need for immediate response, she added.