67 hurt as AL, police clash with BNP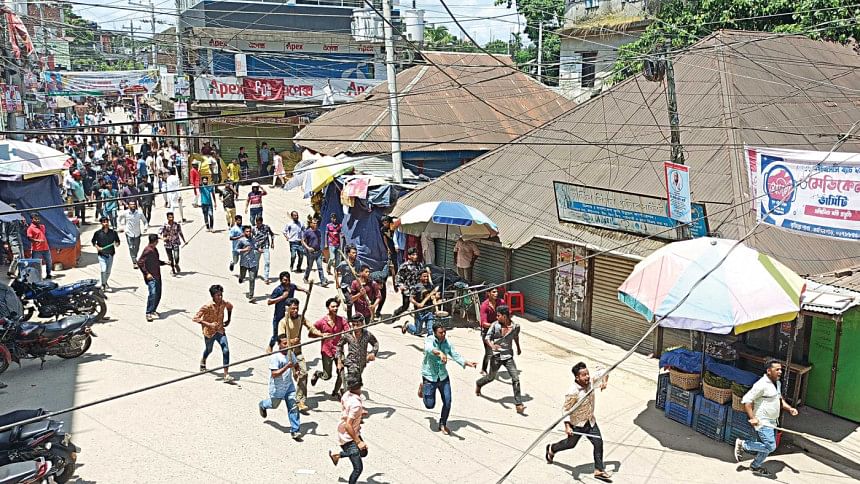 Sixty-seven people, including seven policemen, were injured as the BNP men clashed with the Awami League activists and police in three districts yesterday.
The clashes took place at the BNP's programmes protesting the price hike of daily essentials and fuel. The party has been protesting across the country since August 22.
In Netrakona, some 20 people, including three policemen, were injured when the law enforcers tried to quell a clash between the AL and the BNP in Madan upazila yesterday.
The BNP men gathered on Shahpur Eidgah ground at noon. On information, the AL men also went there and the groups started hurling brickbats at each other, said police.
Police rushed to the spot and brought the situation under control, said Mohammad Ferdous Alam, officer-in-charge of Madan Police Station.
Additional policemen have been deployed to avert any further untoward incident, he said, adding a case would be filed in connection with the clash.
In Pirojpur, at least 25 BNP men were injured as the Chhatra League men attacked them in Nesarabad upazila yesterday morning.
A group of the BNP activists were going to the upazila headquarters from Inderhat area to join the party's programme by a trawler.
"When the trawler entered a canal crossing the Sandha river, the BCL men attacked the BNP men, leaving at least 25 leaders and activists injured. Many jumped into the canal from the trawler to save lives," said Alamgir Hossain, convener of the district unit BNP.
Some BNP leaders alleged that Swarupkathi municipality unit BCL President Mithun Acharjay Anuj led the attack. Mithun, however, denied the allegations.
Nesarabad Police Station's OC Abir Mohammad Hossain said he did not hear about any clash.
In Cumilla, at least 15 BNP men were injured after a clash with police and the AL men in Nangolkot upazila.
The BNP men said they brought out a rally at Nangolkot Bazar yesterday morning but were attacked as they reached the Bazar intersection.
"Police first intercepted us. As we tried to march forward, the law enforcers became furious and started charging batons," said Nazir Ahmed Bhuiyan, president of Nangolkot upazila unit BNP.
"Later, the AL men joined police and attacked us, leaving at least 15 of our men injured," he added.
Contacted, the upazila unit Jubo League President and Nangolkot Municipal Mayor Abdul Malek said the BNP men carried out the attack without any provocation.
Abdur Rahim, additional superintendent of Cumilla police, said police fired tear shells to disperse the BNP and the AL men who got involved in a clash.
Nangolkot Police Station's Inspector (Investigation) Kanon Chowdhury said four policemen, including the police station's OC, were injured in the clash.
Meanwhile, some 15 students of AR Government High School in Nangolkot became sick due to the tear shells. The students were taken to the upazila health complex.
In Savar, police arrested 10 BNP activists for blocking roads and attacking police in Chhayabeethi area yesterday.
[Our Mymensingh, Pirojpur, Cumilla and Savar correspondents contributed to this report]