50 hurt as two BCL factions clash in Barguna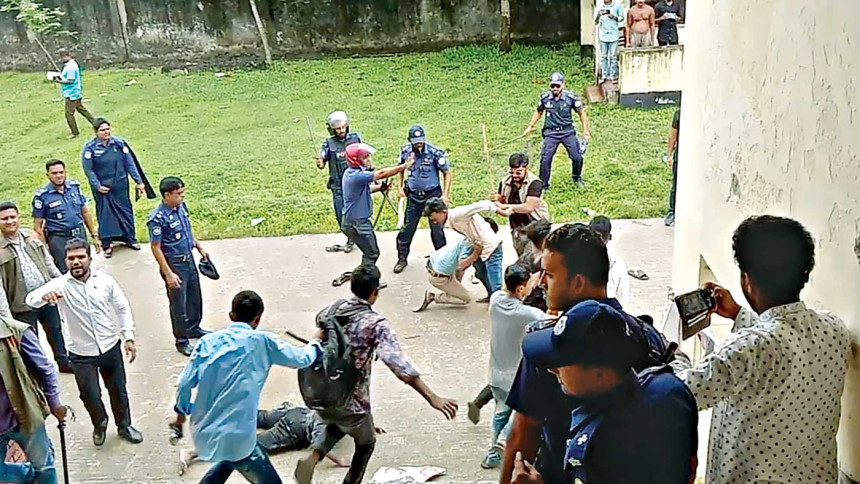 At least 50 activists and leaders were injured during a clash between two BCL factions in Barguna yesterday.
According to police, a rally by Barguna district BCL, led by its president Rezaul Kabir and general secretary Taushifur Rahman Imran, was on its way to the district Shilpakala Academy as part of its national mourning day programme.
When it reached around 12:00pm, activists of another faction started throwing brickbats at them from the building, triggering the clash.
SM Tarek Rahman, additional superintendent of police in Barguna, said that when police went to the scene to bring the situation under control, they were also attacked with brick chips.
"We had charge batons to disperse the two groups."
District BCL President Rezaul Kabir said, "When we took our rally to the Shilpakala Academy, another group suddenly started attacking us from the roof of the building. Later, police came and removed us from there."
During the clash, a few motorcycles and an ASP's car were vandalised.
Police later raided the Shilpakala Academy and Launch Ghat areas, and recovered sticks and sharp weapons.
Sabuj Molla, vice-president of the running committee, who was an aspirant for the president post, said, "We were on the second floor of the building. Then suddenly some activists came there and threw brickbats at us. Police then came and kicked us out of the building."
According to locals, the two groups have been in a feud since Barguna district Chhatra League council was held after eight long years on July 17 this year.
ASP Tarek said, "Legal action will be taken once a written complaint is lodged."
Meanwhile, additional forces were deployed in the town to avert further untoward situations.