4 narsingdi AL men: 'Picked up' 6 years back, no trace yet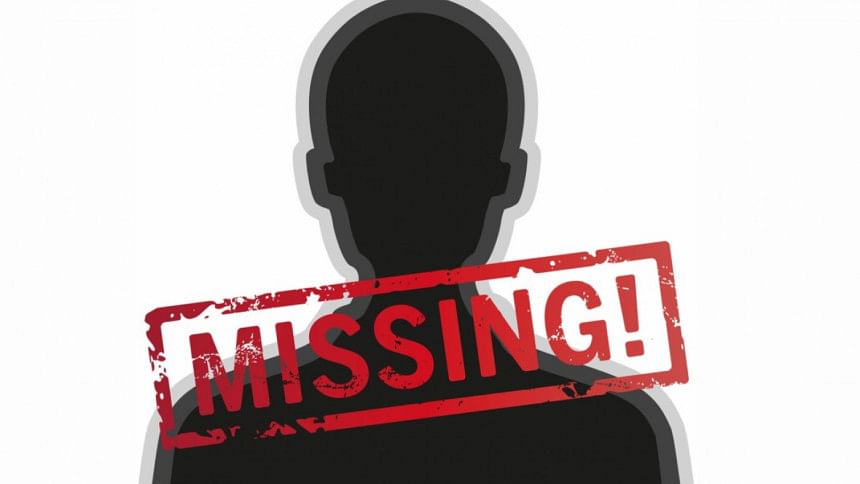 It has been almost six years since four Awami League men disappeared after police allegedly picked them up from a village in Raipura, Narsingdi.
Over the years, desperate family members' wait for their return turned into dismay. Now they just want to know whether the men are alive.
A team from Raipura Police Station picked them up around 2:30pm on May 26, 2017, and took them to Bashgari Police Outpost in the upazila, at least 13 witnesses told this newspaper.
Soon after they were detained, a demonstration for their release turned into a deadly clash between locals and police, leaving at least one dead and many injured.
In the evening, two of the witnesses saw a police team, led by Azharul Islam Sarkar, the then officer-in-charge of Raipura Police Station, take the detainees to Syedabad Ferry Ghat in a police pick-up.
That was the last time anyone in the area saw the four.
Azharul, now OC of Ghatail Police Station in Tangail, denied taking the four in the vehicle.
According to a case filed by police following the clash, locals snatched away Rup Mia, the then vice-president of Bashgari Union AL, after police arrested him on criminal charges.
Police claim they never detained the other three missing men: Habibur Rahman, union AL sports secretary; Zakir Hossain, a ward-level AL president; and Azizul Islam, a union Jubo League organising secretary.
All of them were accused in multiple cases filed mostly by their rival groups.
Meanwhile, desperate family members of the missing men visited the police headquarters, the home ministry, and even appealed to the prime minister, but to no avail.
"I waited for my son's return for the last five years. Now I just want to know whether he is alive," Azizur's 80-year-old mother Nur Jahan Begum told The Daily Star.
WHAT HAPPENED ON MAY 26, 2017
"I was stacking up hay in a field when I heard a commotion on the road and went to see what was going on. I saw police and the four detained men," said Akter Mia, one of the witnesses.
As the policemen were taking them to Bashgari Police Outpost on foot, local AL leader Shahed Sarkar, along with some followers, approached the officers and requested them to release the four.
As the policemen refused to free them, Shahed's supporters stopped them and started chanting slogans. The law enforcers opened fire and fatally shot a man named Mustafa.
The police team then took the four men to the outpost in Bashgari. A violent clash between locals and police took place near the outpost.
The other 12 witnesses also gave similar accounts of the events. One of them is an employee of Raipura Bhumi Office.
Following the clash, he and an official  went to the Bashgari area in a microbus to enquire about the incident.
While returning to Raipura town from Bashgari, he saw a police pick-up taking the four men to Syedabad Ferry Ghat from Bashgari outpost, he said, adding that OC Azharul was in the pickup. "When our microbus crossed the Pagla river, the police vehicle was still at the ferry ghat."
He said that he clearly recognised the four men, known in the area as political activists, at the ferry ghat. "One of the policemen told us that they detained the four men from a boat in Rajnagar area."
"The time was around 6:30pm and it was drizzling. The detained men were wearing helmets and bullet-proof vests," he said, requesting not to be named.
At a rally in Raipura on February 11, 2018, local lawmaker Raziuddin Raju said, "Where are big leaders like Rup Mia? Police know how they had swallowed them."
A footage of his speech went viral on social media at that time. Several newspapers ran reports on his speech.
When he was asked about what happened to the men, he said, "A clash took place after Rup Mia and others first attacked the police with spears. I do not know what happened later."
Asked about his comment, he denied saying such things.
He added that he was willing to help the families find out if the missing men became victims of enforced disappearance. "But none of them ever contacted me."
However, Rup's wife Nasima Begum and Azizul's elder brother Horun Mia said family members of each of the victims met Raju at his office and sought his help.
'POLICE ACCOUNT FALSE'
A day after the clash, Sub-Inspector Raijul Alam filed a case accusing 23 named and 200 to 300 unnamed people of attacking police.
The complaint said while a police team was taking Rup to Bashgari outpost, his supporters attacked with firearms, crude bombs and sharp weapons and snatched him away from custody.
The case mentioned names of several witnesses.
But two of them, Aminul Islam alias Khokon Doctor and Abdus Samad, told The Daily Star that they were not present at the scene and they did not even know that police made them witnesses to the incident.
Both of them said they were in Raipura town, around 6km away from the scene, at the time.
Aminul, who now lives in the US, said naming him as a witness was wrong and it was false.
Abdus Samad said he returned home from the town at night and heard that police picked up the four men.
FAMILIES IN DISTRESS
Azizul's elder brother Horun Mia and Rup's nephew Moyen Uddin alleged that police detained them and shot them in the leg a few months after the incident.
Police then falsely accused them of carrying firearms and narcotics, they added.
Harun and Moyen said their legs had to be amputated.
Horun, also the Bashgari Union Swechhasebak League president, alleged that on November 20 in 2018, police picked him up from his house in Raipura.
The police blindfolded him and tied his hands and took him to a quiet place and shot him in the leg.
Moyen said immigration police arrested him at Dhaka airport on September 17, 2017 while he was going to the Middle East.
"I was handed over to a three-member police team from Raipura. They tied my hands and blindfolded me and took me to Raipura in a microbus.
"I was shot in my right leg. As I cried in pain, they took the blindfold. I saw the OC [Azharul] standing before me holding a gun," said Moyen.
Deputy Inspector General Amena Begum, who was the Superintendent of Police in Narsingdi at the time, said when several thousand people attacked a police outpost and a policeman was seriously wounded, "I ordered the local OC and circle ASP to release Rup Mia, who is a heinous criminal. Police are still looking for him."
Azharul, the former OC of Raipura, denied the allegation of shooting anyone.
The current Superintendent of Police Kazi Ashraful Azim declined requests for comments on the matter.