2 arrested for embezzling crores from construction firms: Rab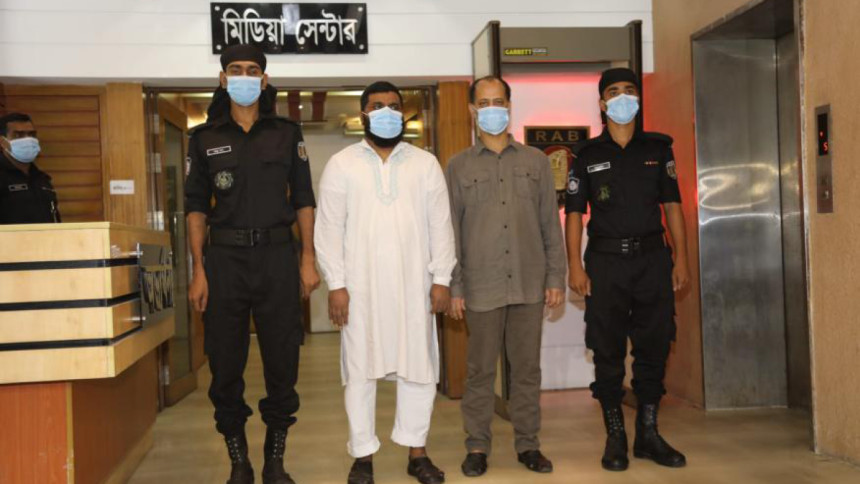 Rab arrested two members of a fraud gang, who allegedly embezzled several crores of taka from various construction firms and organisations, promising them work under government projects.
The group used to convince their clients, using the names of family members of Bangabandhu Sheikh Mujibur Rahman and other eminent personalities of the country.
Based on the information of National Security Agencies, a team of Rapid Action Battalion arrested the duo -- Mansur Ahmed (33), the kingpin of the gang, and his associate Mohsin Chowdhury (55) -- from Paltan area last night, Khandaker Al Moin, Rab's Legal and Medial wing director, said at a press briefing at Rab media centre in Dhaka today.
The fraudsters swindled over Tk 2 crore from contractor firms and organisations in three years, he said.
The gang of five to six members uses different technics to cheat people, he added.
The Rab official said the gang members used to buy new mobile SIM cards and save them with names of important persons of the country, including members of the Bangabandhu family.
They chat among themselves on different messaging platforms pretending to be relatives of Bangabandhu and other distinguished families, Moin added.  
The gang members discussed about awarding various development projects of the government and later shared screenshots with the prospective clients.
Besides, they used to show photoshopped images of themselves with eminent persons, the Rab official said, adding the gang used to take 10 to 12 percent of total money of the project in the name of giving the job.
Arrestee Mansur, once a land broker, took up a job in a contractor firm in Dhaka and came up with the idea.
Mohsin initially set up a garment factory in Malibagh in Dhaka but sold it after incurring losses. He later got involved in the racket through Mansur.
One of the members is currently operating the gang from the UAE, the Rab official said.