13 lakh yaba haul in Ctg: PBI arrests fugitive drug dealer earlier dropped from charge sheet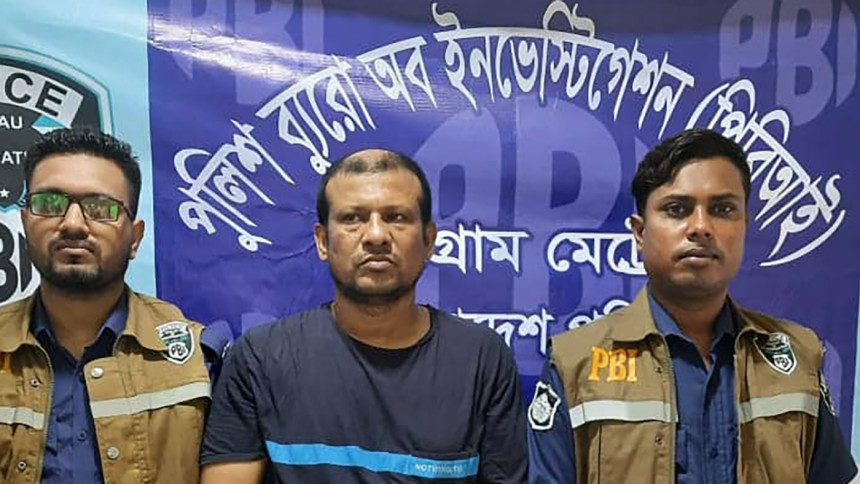 Members of Police Investigation Bureau (PBI) in Chattogram today (July 3, 2022) arrested a man whose name was dropped from a charge sheet of a case filed in connection with the recovery of 13 lakh yaba pills in a flat in port city's Halishahar area in 2018.
The arrestee is Showkot Samun, 40, son of Shah Alam, hailing from Hathazari upazila of Chattogram, PBI's Chattogram metro unit Additional Superintendent of Police Junayet Kawsar, told our Chattogram staff correspondent.
"He (Showkot) was arrested from his flat in port city's Sulakbahar area under Panchlaish Police Station following our secret intelligence and round-the-clock surveillance today," said Junayet Kawsar.
"He is one of the top drug lords in the yaba haul case," the PBI official said.
"Showkot's name was dropped from the charge sheet as his full address and name could not be managed during an investigation by the previous investigation agencies. Following a court order, the 13 lakh yaba haul case came to PBI where we identified him with full details after around five years," added Junayet Kawsar.
According to the case statement, detectives of Chittagong Metropolitan Police (CMP) in a drive arrested two siblings, including a local yaba godfather, in possession of 13 lakh of yaba tablets worth Tk 45 crore from an apartment in Chittagong city's Halishahar area on May 3, 2018.
The two arrestees are Ashraf Ali, 47 and Md Hasan 22, hailing from Ukhiya of Teknaf under Cox's Bazar district. Later, police had filed a case accusing two siblings and two Rohingya yaba dealers making headlines in media.
After the arrest, Ashraf said he left Dhaka for Yangon of Myanmar by air and held meeting with La-mim during his stay at "Hotel Alimiun" there. He later came to Chattogram Sitakunda's via boat through sea route carrying the yaba.
During the investigation, police found the involvement of top yaba dealer Saiful Karim in Cox's Bazar and one Riajuddin Bazar businessman Jubayer, alias Redwan, who run a group of 12 drug dealers' big yaba racket in Chattogram region. After investigation, DB police placed a charge sheet before the court implicating 12 persons and dropping names of four persons including two Rohingya as their details failed to avail on December 12, 2018.
Later, a court sent the case for further investigation to Criminal Investigation Department (CID). CID also pressed charges against 12 and names of five persons, including two Rohingyas, were dropped as their details failed to be unearth on October 27, 2021.
As the court did not satisfy over the investigation, the court later sent it to PBI for further investigation.