13 jailed over Nasirnagar mayhem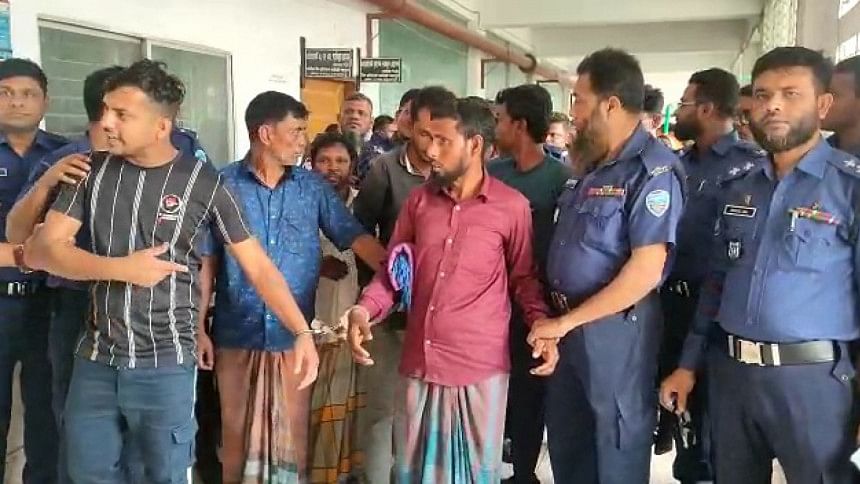 A Brahmanbaria court yesterday sentenced 13, including former Haripur Union Parishad chairman Dewan Atiqur Rahman Ankhi, to four years' imprisonment in a case filed over vandalising temples and carrying out arson attacks in Nasirnagar six years ago.
Chief Judicial Magistrate of Brahmanbaria Masud Parvez delivered the verdict, said Court Inspector Kazi Didarul Alam.
Other 12 convicts are: Mukhles Mia, Idhu Mia, Mofizul Haque, Nazir Rahman, Mafuz Miah, Saiham Rabbi Shyam, Mir Kashem, Tabarok Reza, Anis Miah, Khasru Miah, SK Abdul Ahad and Sajib Chowdhury.
On October 30, 2016, religious bigots vandalised and torched homes and temples of the Hindus in the upazila over a Facebook post "hurting religious sentiments".
The court inspector added that the case was filed in connection with torching and vandalism of Puraton Durga temple in Paschimpara area of Nasirnagar upazila town.
Sadhan Chandra Das, the then sub-inspector of Nasirnagar Police Station, filed the case, which is among eight cases filed in connection with the violence.
The investigation officer of the case submitted the charge sheet accusing 228 people, including key accused Ankhi, in 2021.
Habibullah Sarkar, officer-in-charge of the police station, said charge sheets of seven other cases were submitted to the court.
Kamruzzaman Mamun, lawyer of the accused, said his clients did not get justice. "We hope they [accused] would get justice from the High Court."
Nazmul Hossain, additional public prosecutor of the Chief Judicial Magistrate's Court, said the judgment was delivered after a thorough analysis of the evidence.