12 impounded buses torched
CID had seized them in money laundering case against ex-AL leader, brother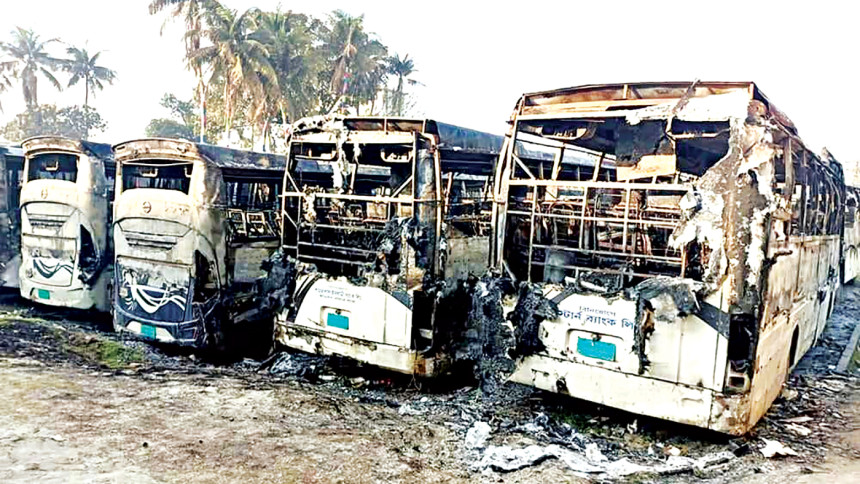 At least 12 buses of South Line Paribahan were burned to ashes in police custody in Faridpur town's Goalchamat area yesterday.
The Criminal Investigation Department seized a total of 22 buses in a money laundering case.
Ten of the buses were kept under a shed and 12 others under the open sky in the district police's jurisdiction as evidence of the case.
Around 1:00am yesterday, a group of miscreants set fire on the buses kept under the open sky in two rows.
According to locals, the fire broke out on the second bus of the first row at the beginning and the fire spread rapidly to other buses.
On information, a team of firefighters in Faridpur rushed to the spot and doused the fire after one and a half hours.
Nazrul Islam, assistant deputy director of Faridpur fire service, said it seemed the fire was an act of sabotage.
Sheikh Mohammad Ali, the night guard of the shed where the buses were kept, said, "The fire spread very quickly. It was a planned work."
The owners of the buses are Sajjad Hossain alias Barkat, suspended general secretary of Faridpur town Awami League, and his brother Imtiaz Hasan alias Rubel, former president of Faridpur press club.
Both of them were arrested in the money laundering case.
Subal Chandra Saha, president of Faridpur district AL, filed the case against the duo on May 18, 2020, two days after his house was attacked.
The duo was arrested in a special police operation in connection with the case on June 6, 2020. They remained in jail ever since.
SM Miraj Al Mahmud, a CID inspector, lodged the case with Kafrul Police Station against the brothers under the money laundering act on June 26, 2020.
Later, CID seized the buses as evidence of the case. The district police were given the responsibility of maintaining the buses.
Contacted, Jamal Pasha, additional superintendent of Faridpur police (administration and finance), said, "Police would investigate the incident and identify the people behind the incident."
Meanwhile, Barkat's wife Surajya Parveen suspected a local land grabber Mizanur Rahman Chowdhury could be behind the fire.
"We have lost several crores of properties because of this fire. We will go to the court over this matter," she said.
The accused, however, denied the allegations.