10 victims speak out after man detained for attempting to rape 6-year-old in Geneva Camp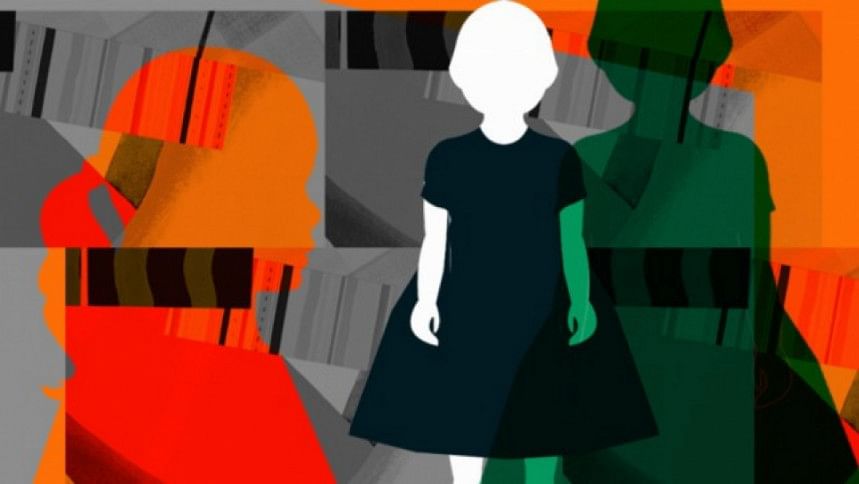 Locals in Dhaka's Mohammadpur Geneva Camp today apprehended a 40-year-old man for attempting to rape of a six-year-old this morning.
The camp residents handed over Md Suman, an alleged drug peddler, to Mohammadpur Police Station. They demonstrated for about two hours, demanding exemplary punishment.
At the protest, at least 10 women spoke out and said that Suman raped or attempted to rape them. They said they did not take legal steps in fear.  
Describing today's rape attempt, aunt of the child said that Suman entered the room around 11:00 am when the parents were outside.
"As he attempted to rape her, my niece along with her three-year-old brother screamed for help… Neighbours rushed there and found the door locked from inside. They caught Suman and rescued the girl," she said.
As the news of his detention spread, over 200 camp residents protested, demanding exemplary punishment for Suman.
When The Daily Star correspondent visited the spot, at least 10 protesting women alleged that Suman raped or attempted to rape them in last three years. They said Suman held women and girls at knife-point in their rooms when their guardians were out and in public toilets late at night.  
They said they could not seek legal steps against Suman as he is influential and keeps a gang with other drug traders in the camp.  
"I was raped by Suman several months ago… I did not go to police, fearing reprisal," a forty-year-old woman told The Daily Star.
Another woman alleged that "One week ago, Suman molested me…He tried to rape me at least twice."
"He has made our lives living hell…" she said.
Mother of the six-year-old victim said, "I was in fear after one of my neighbours told me that he raped her…But today, he targeted my child. We want capital punishment."
Contacted, Md Kamruzzaman, inspector (investigation) of Mohammadpur Police Station, said filing of a case is underway for attempting to rape the six-year-old.
Asked about the allegations of other women, the police officer said they are not aware as none came to police station with complaints.
"However, we will investigate it," he said.