State-run fertiliser factories: White Elephants they're now
"The country cannot afford to waste natural gas or sell it at a cheaper price as the LNG price is rising day by day worldwide."
The factories are consuming natural gas heavily, but producing urea fertilizer much less than their modern peers do.
The wastage of gas in these four state-run fertiliser factories in just nine days is enough to produce a day's electricity, about 9,000MW, for the entire country, according to an estimate by the government's Power System Master Plan.
The four factories in question churned out 7.96 lakh tonnes of granular urea in FY 2019-20, consuming around double the required gas, the key ingredient to manufacture urea.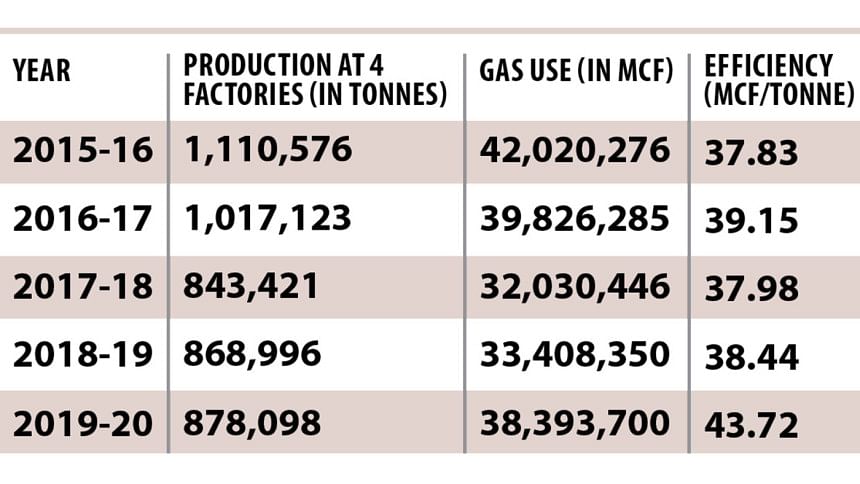 On average, the four factories consume 43.72 million cubic feet (mcf) of gas to produce 1 tonne of urea, when the global standard is 25mcf, show documents of Bangladesh Chemical Industries Corporation (BCIC). 
The factories, which operate under BCIC, are Jamuna Fertiliser Co Ltd (JFCL), Ashuganj Fertiliser and Chemical Company Limited (AFCCL), Chittagong Urea Fertiliser Ltd (CUFL) and Shahjalal Fertiliser Company Ltd (SFCL).
Government officials attributed this low efficiency to old machinery with no overhaul in years, interruption in gas supply and lack of skilled workforce.
Of the four factories, AFCCL, CUFL and JFCL have already exhausted their 20-year life span. AFCCL and CUFL were commissioned in 1981 and 1987 respectively while JFCL started production in 1991.
The performance of SFCL in Sylhet, which started production just five years ago, is already low.
In contrast, Karnaphuli Fertiliser Company Limited (KAFCO), the lone multinational joint venture in the sector, is almost at par with the global standards for consumption-production ratio.
Commissioned in 1991, KAFCO produced 5.30 lakh tonnes of urea at 27.97 mcf/tonne efficiency in 2019-2020.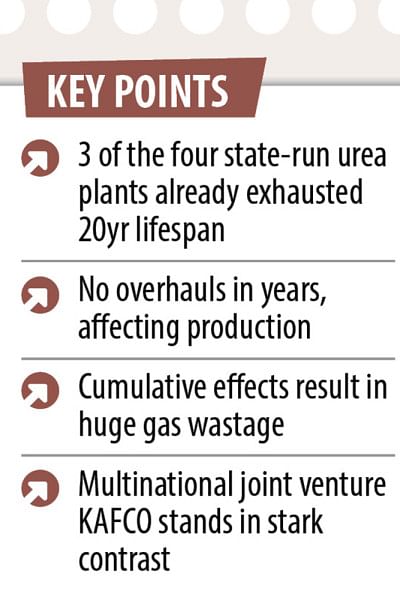 Experts said the low efficiency of the state factories had been an open secret for years. The wastage has already stressed the country's fast depleting natural gas reserve and incurred huge economic losses.
These factories are running on government subsidies that have been increasing with every passing year, they added.
In FY 2015-16, the subsidy for these four factories was Tk 235 crore, which nearly tripled to stand at over TK 659 crore in FY 2019-20, according to the industries ministry's 2019-20 annual report.
Eminent energy expert Dr Ijaz Hossain said the government was in a great dilemma here.
"The dilapidated factories are like an old model car which needs lots of fuel but we can't dump it as we don't have the ability to purchase a new one. If we stop production then the country will face urea shortage which will be more problematic," said Dr Ijaz, a former professor of Bangladesh University of Engineering and Technology (Buet).
Bangladesh needs around 24.41 lakh tonnes of urea each year. Of this, the state-owned factories cater around 8.77 lakh tonnes while the rest 16 lakh tonnes are imported, according to the agriculture ministry.
Dr Ijaz said he was against continuing production in old and dilapidated fertiliser plants, adding, "The country cannot afford to waste natural gas or sell it at a cheaper price as the LNG price is rising day by day worldwide."
Old machinery, poor gas supply blamed for low efficiency; govt subsidy keeps climbing by the year
He said, "The factories get gas at a subsidised price. But they have to calculate their production cost with the international LNG market price to be economically viable."
He said uninterrupted gas supply was key to improving efficiency.
About the low efficiency of SFCL in Sylhet, he said, "It is not working efficiently because the proposed design was not followed to build it."
A top BCIC official acknowledged that there might be some flaws in the design, and said the issue was now under investigation.
THE NEVER-ENDING CYCLE
Over the last five years, the wastage of gas at the four factories is about 67,727,250 mcf or about 37,110 mcf per day, according to government estimates.
The government acknowledged such waste of gas across the country in the Power Sector Master Plan (PSMP) 2016.
If the international benchmark was followed, the country could have saved 130mmscfd gas daily which is equivalent to 1,000MW power, observed the PSMP 2016.
The report also made various recommendations to improve efficiency, but very little has changed.
 In the last five years, six government-owned fertiliser factories that also included the now-decommissioned Palash Urea Fertiliser Factory and Gorashal Urea Fertiliser Factory produced 42.80 lakh tonnes of urea at an average efficiency rate of 39.42 mcf/tonne.
The government closed the age-old Palash Urea factory in 2018 and Gorashal the following year.
Of the four factories in question, only Shahjalal Fertiliser factory operates regularly. Last year, CUFL was out of operation for 359 days, Ashuganj for 211 days and JFCL for 206 days, BCIC data show.
Ashuganj Managing Director AKM Anowarul Haque said they closed the plant last month for overhauling and maintenance.
"It's normal that a 40-year-old factory will not give you optimum output. We conducted overhauls every 10 years. We need another three months to resume operation," he said.
The newest one, Shahjalal fertiliser factory, also has been wasteful as it produces urea with an efficiency of 34.33 mcf/tonne.
Sunil Chandra Das, general manager (operation) of the factory, said they could produce urea at optimum level had the machine run at 100 percent load.
"We can run our machine at 80-82 percent load and there is no option to increase the load manually. We have not even got urea at 25 mcf/tonne when the test run was conducted," he told The Daily Star recently.
He said the plant efficiency was supposed to be 22.5mcf/tonne.
Asked if the design was followed properly, Sunil said, "Maybe there was some problem with the design."
The government built the 5.8 lakh tonnes per year capacity SFCL plant for Tk 5,409 crore, according to the industries ministry's 2019-2020 annual report. 
But in the last five years the average annual production of SFCL, built by a Chinese company using technology from the USA and the Netherlands, is around 3.4 lakh tonnes.
KAFCO IN BETTER CONDITION
KAFCO, a joint venture with 43.5 percent government share, produced 20.07 lakh tonnes of urea in the last five years with an efficiency of around 28.76 mcf/tonne.
Its efficiency was calculated with the gas distribution data from Karnaphuli Gas Distribution Company Limited (KGDCL).
KAFCO is successful because it invests a lot of money for proper maintenance, officials said.
"The government buys urea from KAFCO at an import price and their income is good enough to invest in maintenance. A machine should be overhauled every 18 months, which we couldn't do since 2010," said Shaheen Kamal, director (production and research) of Bangladesh Chemical Industries Corporation (BCIC).
In the case of KAFCO, the government sells gas at import prices as well.
WHY THE LOSS?
Shaheen Kamal said they sell urea to the government at a much cheaper price.
"We charge the government just Tk 14,000 a tonne, when the import price is around Tk 72,000 now. We save the government Tk 58,000 per tonne," he said.
He also faulted the age-old machinery and low pressure of gas for the low production.
"It's not possible to get the desired service from a machine of the '90s like the modern ones. We are trying to become efficient but we need time."
Citing the example of Jamuna Fertiliser Company, he said the factory ran almost daily but it faced low pressure of gas for 330 days a year.
"The economic life of those factories decreased considerably. The machines are almost 30-40 years old and we are putting extra pressure on the machines. We need 8-10 days to start a machine, which needs gas equivalent to Tk 3 crore," he added.
BCIC Chairman Shah Md Imdadul Haque said he was not aware of any report about gas wastage. "We produce a unit of urea at Tk 22 and sell it at Tk 14. That's why we incur loss."