Santal farmers killed selves being deprived of irrigation water: Farmers tell probe body blaming operator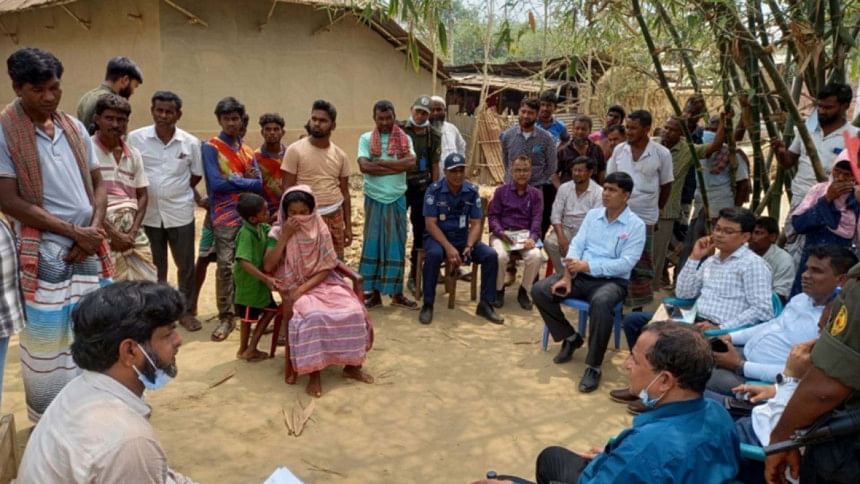 While the probe committee from the Ministry of Agriculture visited Rajshahi's Godagari upazila today, many farmers elaborately told them that the death of two santal farmers was primarily because the operator deprived them of irrigation water.
They told the committee members that the deep tube-well operator Sakhawat Hossain deprived the small farmers and gave water to his choicest farmers in return for bribes.
However, some farmers, some of them relatives of Sakhawat, informed the committee that there was no water crisis, reports our Rajshahi staff correspondent.
Md Abu Jubayer Hossain Bablu, a joint secretary of the ministry, was leading a four-member committee.
Other committee members are: Muhammad Shariful Haque, ADC (Revenue) Rajshahi; Md Sazzad Hossain, executive engineer of BADC, Natore; and Md Shamsher Ali, executive engineer, BMDA, Naogaon.
Ministry of Agriculture formed the probe team on March 27 after Abhinath Mardi and Robi Mardi committed suicide.
Abhinath's wife Rozina Hembrom and Robi's brother Sushil Mardi filed two separate cases with Godagari police station accusing the deep tube-well operator Sakhawat Hossain for provoking their suicide.
The probe team was asked to submit their report within seven working days, an office order said.
The order said, the committee has been formed based on reports published by news portal Sara Bangla Desh Net and the daily Ittefaq on March 24 and March 27 respectively.
The committee was asked to investigate into the reasons behind deaths of two farmers, who allegedly died by suicide after deep tube-well operator refused to supply irrigation water to their lands.
The committee will also inquire about the allegation that the farmers were not provided with irrigation service on time.
The committee members, assisted by the police and ansar members, visited Issoripur and Nimghutu villages and talked to some 15 people.
Abhinath's wife Rozina Hembrom told the team that her husband told her before his death that he drank pesticide as Sakhawat denied him water. She also said that Abhinath was standing beside the deep tube-well and in front of Sakhawat when he drank pesticide.
While the probe team was visiting the two dead farmers' land, Sakhawat's cousin Shihab Ali showed grass grown on their land and told them that the two santal farmers didn't care for their crops.
But a santal farmer present on the spot told the team that the grass grown in their land as they could not clean the land due to lack of water. It was after their death, water was given to their land, he told the team.
The team leader Md Abu Jubayer Hossain Bablu told reporters that the investigation was not yet complete and they have enough time to submit the report.
When the probe team went to Godagari, the probe team talked to some farmers sitting at the Deopara Union Parishad.
Van puller Bappi Mardi told them that Sakhawat carried Abhinath home in his van after he drank pesticide.
Farmer Mohes Murmu told the team that he was cultivating Boro paddy on three bighas of land. He complained of not getting water on time.
"Our crop fields dry up, the operator does not provide me water on time, rather the operator gives water to distant lands after taking bribes," he said.