Nonstop rain over 4 days damages crops worth Tk 5.6 crore in Bagerhat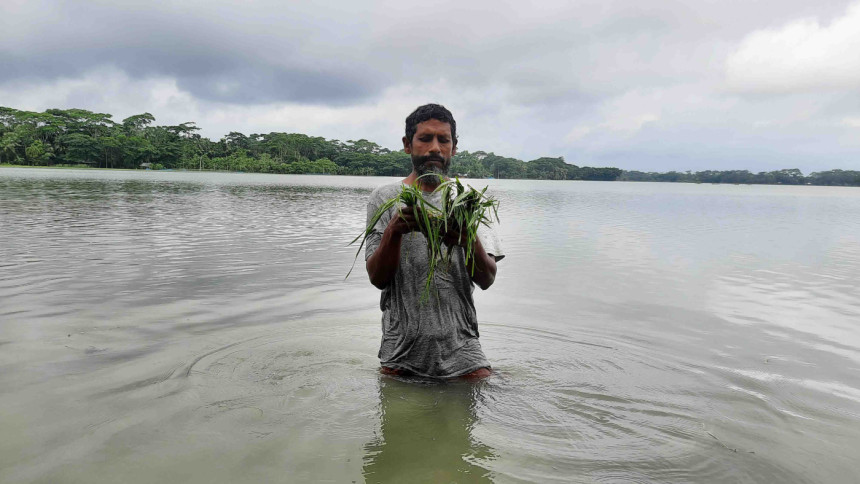 Four days of nonstop rain has wreaked havoc on croplands, seedbeds, Aman paddy, vegetables, betel leaf and other crops in Bagerhat.
Farmers of the affected areas have lost crops worth Tk 5,65,08,000, according to the Department of Agriculture, reports our correspondent.
Heavy rains and tidal water, between July 26 and 30, damaged 1,588 hectares of Aman seedbeds in the district. A 960-hectare Aus paddy field, 379 hectares of vegetable field, and 10.5 hectares of betel leaf field were damaged, according to the Bagerhat Department of Agricultural Extension.
Nasir of Uttor Tafalbari area of ​​Sarankhola upazila said, "In 20 bighas of land, I planted 100 kg of Aman paddy seed. For the past six days, these seedbeds have been submerged. The paddy seedlings have mostly rotted -- the roots have rotted as well! We are afraid we won't be able to grow Aman paddy this season."
Another farmer, Khalil, said, "I purchased paddy for Tk 100 per kg and planted the seeds. Paddy is a four-month crop; once the floodwaters recede, it will take about a month to repurchase paddy and sow seedlings. We might be able to survive if the Department of Agriculture and the government work with us to develop a new variety of rice seeds."
Nasir and Khalil are not alone. Seedbeds of thousands of farmers in Sarankhola upazila are also submerged.
Asaduzzaman Milon, chairman of Rayenda Union Parishad of Sarankhola upazila, said that the rain washed away the majority of the fish enclosures and ponds in the upazila. The Aman seedbed is still flooded. Rabi crops and summer vegetables have been severely harmed.
The Water Development Board's embankment lacks a proper sluice gate which can prevent water from flowing freely. Rainwater lasts longer than usual as a result, said the chairman.
He called upon the government to provide necessary assistance to the farmers, including the construction of the required number of sluice gates in the embankment.
Md Shafiqul Islam, deputy director, Department of Agriculture Extension, Bagerhat, said, "Our Aman seedbeds, betel leaf, Aus paddy, Aman paddy, and summer vegetables have all been harmed by four days of constant rain. Farmers have lost crops worth at least Tk 5,65,08,000. The extent of damages may increase if the water does not recede quickly."
"We are offering general advice and assistance to the farmers who have been impacted. The Department of Agriculture is on their side, hoping to compensate the farmers for their losses," the deputy director added.