Middlemen eating into salt farmers' profits
While salt production has been growing steadily over the years, the farmers in the coastal districts of Chattogram and Cox's Bazar are apprehensive over whether their meagre profits would get any better.
Their primary concern is the presence of middlemen or brokers who purchase crude salt from them and then sell it to mill owners and wholesale traders.
The mills refine the salt and add iodine before selling it either as branded or non-brands items. Wholesalers also enable other uses such as for the preservation of raw hide during Eid-ul-Azha.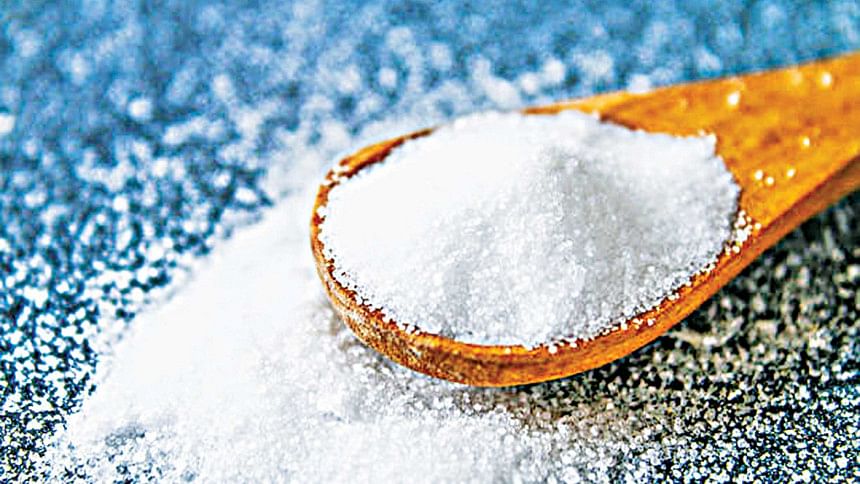 Demand for salt is estimated to have been 19.38 lakh tonnes in the last fiscal year of 2021-22, including 8.76 lakh tonnes of the edible variety, according to the National Salt Policy 2022, which was issued by the industries ministry.
By 2026, overall demand is projected to reach 25.30 lakh tonnes.
The production of the chemical sodium chloride, an important item for human and animal health, through the evaporation of salt water in large expanses of land mainly runs for five months from November to May.
This season, farmers are using 63,291 acres of land in Cox's Bazar district and Bashkhali upazila of Chattogram, according to the Bangladesh Small and Cottage Industries Corporation (BSCIC).
To date in the ongoing fiscal year, crude salt production stands at around 11 lakh tonnes. Farmers produced 16.5 lakh tonnes of crude salt in FY21.
"Salt production has increased by 25 per cent to 30 per cent this year. The production will go up gradually if the weather remains favourable," said Md Zafar Iqbal, deputy general manager of the BSCIC's Cox's Bazar office.
"We are getting bumper production this year due to favourable weather. Farmers are passing busy days," said Mohammad Sharif, a salt farmer in the Bharuakhali area of Cox's Bazar sadar upazila. "But we are at the mercy of the factory owners and wholesale traders."
He says they can make a profit of Tk 20 to Tk 30 per maund (about 37 kilogrammes).
"If we can get rid of brokers, we will surely be able to make more profit."
Farmers in this area have got a bumper production of salt. But prices are very low. That is why many farmers are in fear of incurring losses, said Abdul Hamid, a salt farmer in Shah Porir Dwip in Teknaf upazila.
Currently, farmers are selling each maund of salt at Tk 210 to Tk 220. But the production cost is higher than that, says another farmer Zahed Ullah.
Brokers buy salt at a low price and sell it to wholesalers and factory owners at a high price. This allows them to make a profit of around Tk 50 to Tk 70 per maund, said Mohammad Kalu, a farmer in Lemshikhali in Kutubdia upazila.
Officials of the BSCIC opined that profits of the salt farmers were indeed low.
"A huge amount of salt has been produced in Teknaf. But farmers are frustrated," said Mohammad Mizanur Rahman, an official of the BSCIC in Teknaf.
Mohammad Shahidullah, president of the Bangladesh Salt Farmers Association, alleges that there is a syndicate formed by mill owners and wholesale traders.
"We don't have any other option. That is why, farmers are compelled to sell their salt at a low price," he said.
He demanded measures such as government purchases for buffer stocks and fixing of prices by the authorities to ensure a fair share for salt producers and all those involved in the trade.
The salt policy aims to ensure a minimum of 100,000 tonnes of buffer stock of salt. The previous policies also spoke of keeping such stocks but that had been limited to paper only.
There are 37,231 salt farmers in the country, while around 5 lakh people are directly and indirectly involved in the salt industry for its management, transportation and trading, according to the policy.
Manzur Alam Dada, general secretary of the Islampur Salt Mill Owners' Association in Cox's Bazar, said mill owners in the district purchase salt from middlemen, traders and brokers, not directly from marginal farmers at the field level.
At present, salt mill owners are buying the commodity from middlemen at Tk 60 per 60kg bag for the distribution around the country. On being refined, each 75kg of iodine-infused salt is being sold at Tk 840, he said.
On why Cox's Bazar-based mill owners were buying salt from brokers or middlemen instead of purchasing directly from farmers, Dada said, adding that it was difficult to do business "outside the system".
"Here, it is customary to get salt from the middlemen. It is better to let them do their job," he said.
He denied the existence of a syndicate of brokers, middlemen and mill owners.