Govt to import 1.4 lakh tonnes of fertiliser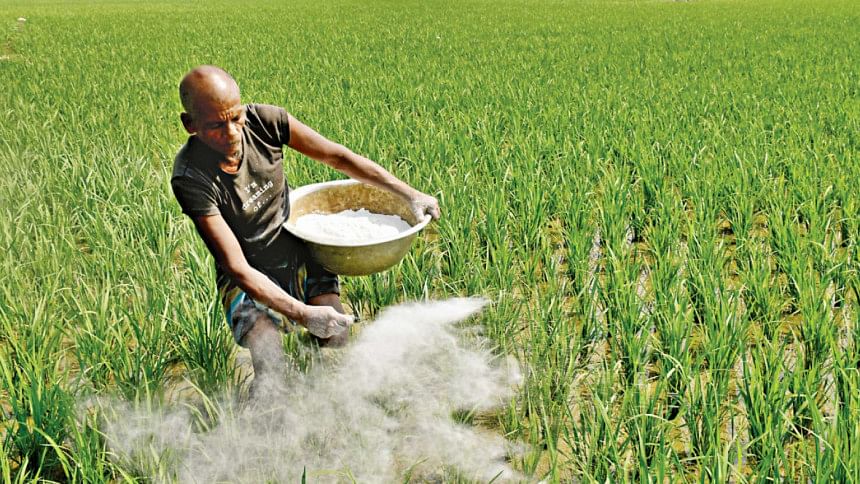 The government yesterday approved import of 1.4 lakh tonnes of fertiliser to meet domestic demand for uninterrupted agricultural production.
The decision was made at a virtual meeting of the Cabinet Committee on Government Purchase, with Finance Minister AHM Mustafa Kamal in the chair.
Last week, the government approved import of another 1.8 lakh tonnes of fertiliser to meet local demand.
The government has been making decisions on buying fertiliser for weeks to provide the vital agricultural input to farmers at subsidised prices amid economic uncertainty.
According to agriculture ministry officials, the government's focus was on domestic food production because the Russia-Ukraine war created concerns over food security. That's why the government will continue boosting its stock of fertiliser.
The officials said the recent approvals of fertiliser imports aim to meet domestic requirements in the Boro and Aush seasons.
Yesterday's meeting decided that of the 1.4 lakh tonnes fertiliser, the government will import 50,000 tonnes Muriate of Potash (MOP) from Canada.
It will also import urea from Qatar and the United Arab Emirates, 30,000 tonnes from each of the countries.
Another 30,000 tonnes of urea will be bought from Karnaphuli Fertiliser Company Limited.
Additional Secretary Sayeed Mahbub Khan of the Cabinet Division last week told reporters that import of urea from Saudi Arabia and the UAE would cost $594.17 per tonne.
Earlier, the government imported urea at $625.83 per tonne.
The latest purchase price of MOP will be $788 per tonne and DAP $725.25 per tonne, down from the previous import prices of $821 and $826.50 per tonne respectively, according to the additional secretary.
The agriculture ministry projects a requirement of 55.5 lakh tonnes of chemical fertiliser for fiscal 2022-23 and most of it would be met through imports because the domestic production is inadequate.
Bangladeshi factories produce 10 lakh tonnes of urea and small quantities of triple super phosphate and diammonium phosphate each year.
But in fiscal 2021-22, farmers used over 55 lakh tonnes of fertiliser.
Agriculture Minister Muhammad Abdur Razzaque in September said there would be no fertiliser crisis in the country even if it faced a shortage of gas.