Chicken varieties with prospects
Result of a 5-yr research by BAU scientists, the disease-resistant strains are 'affordable, delicious and have huge future market'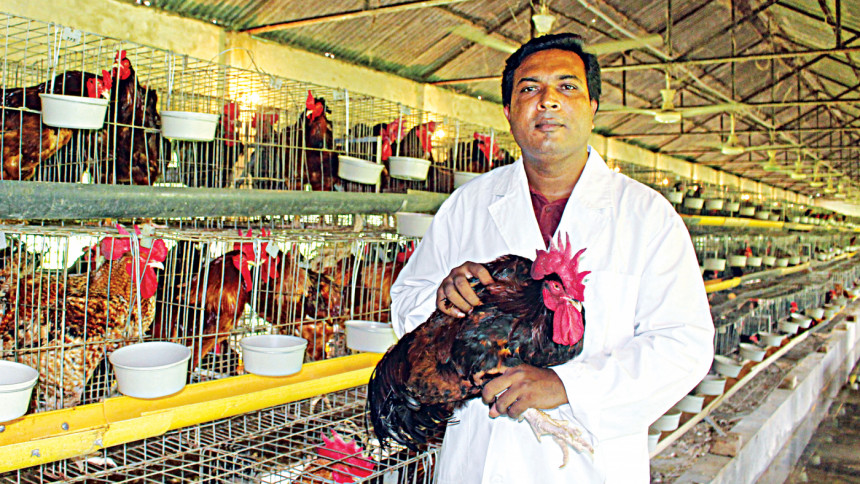 Two chicken varieties developed by Bangladesh Agricultural University (BAU) scientists have the potentials to usher in a new era in poultry farming. Developed from native chicken germplasm, they grow quickly, consume very little and are disease-resistant.
Their meat is as tasty as that of local varieties and is deemed safer as they do not require any vaccines and antibiotics.
The two varieties -- BAU White and BAU Colour -- are the result of a five-year research aimed at meeting the ever-growing demand for quality protein at an affordable price.
Scientists say the new varieties are suitable for rearing in large scale at farms, meaning they have great market potentials for farmers. They called for government support to increase its production.  
The development comes as a welcome news for poultry farmers in Bangladesh, most of whom venture into this without any experience and training.
The marginal farmers in particular are dependent on dealers and local agents for chicks and other production inputs such as feed and medicines, with the intermediaries pocketing the lion's share of the profit.
In contrast, the BAU varieties are less prone to diseases.  The meat is safer because it does not need additional vaccines and antibiotics, meaning farmers need little or no training and minimum input cost for their commercial production, said Prof Dr Bazlur Rahman Mollah, one of the lead researchers.
In just 42-45 days, each chicken weighs up to one kilogram, consuming only around 1.9kg of feed during the same time span, he added.
In respect of colour and taste, they resemble native chicken, with livability ranging from 97 to 98 percent at farm condition.
Additionally, they reduce carbon footprints since the parents could be reared in traditional way in which chickens are reared in open-sided houses relying on the free flow of air.
The production cost is also lower than other crossbreed and indigenous chickens.
Led by Prof Dr Md Ashraf Ali and Prof Dr Bazlur Rahman Mollah of BAU's poultry science department, the research began in 2009 with funding from Bangladesh Agricultural Research Council (BARC).
The breakthrough came in 2014, after five years of numerous trial and error and strenuous lab and field research.
After the initial development of the two varieties, Krishi Gobeshona Foundation (KGF), a research institution, undertook a countrywide field study.
Findings indicate that the varieties are superior in terms of feed efficiency, growth, adaptability and disease resistance compared to other crossbreed chickens available in Bangladesh, said team leader Prof Dr Ashraf, also former dean of animal husbandry at BAU.
Much to the project's success, one variety, the Colour strain, has already hit the market -- per kg live chicken is sold at Tk 180 to Tk 220 at the BAU sales centres; one kg processed chicken at Tk 320 at Chaldal online shop, Tk 290-310 at Proteinhub while Tk 320 to Tk 340 at Meena Bazar.
Its commercial production kicked off in 2020 with financial and technical support from KGF.
Also with KGF funding, a new project was initiated early this year for conservation of parents of the developed strains and their expansion among poultry farmers across the country, said Dr Mollah, also chief researcher at the Genome Sequence Research Team of Black Bengal Goat and Hilsa Fish.
Scientists aim to produce two lakh parents and three crore commercial chicks every year under the project.
"We are producing two types of day-old chicks -- one is commercial chicks and the other is parent chicks," Dr Mollah said.
Currently, sales price of each commercial chick is TK 25 to 30 while each parent chick is TK 125 to 130 at farmers' level. Currently, BAU poultry farm produces 30,000 chicks per month, he added.
BAU has the capacity to take the production to 10 lakh chicks a month if the government extended financial and infrastructure support, he said, adding, "We have sufficient technical staff for fabulous production."
An NGO called Proteinhub is also working on rearing the poultry varieties on commercial basis.
According to one estimate by researchers, Bangladesh now produces some 2.2 crore chicks per week. About 1.7 crore of them are broiler.
Bangladesh is self-sufficient in meat production, thanks to increased government and non-government support for poultry and cattle farming in rural areas over the last one decade.
Scientists said the market for the Colour variety has huge growth potential with demand rising. Mass production of BAU chickens will reduce Bangladesh's dependency on imports of parent chickens from other countries, they added.