Chemically-tainted pineapples: The farmers' perspective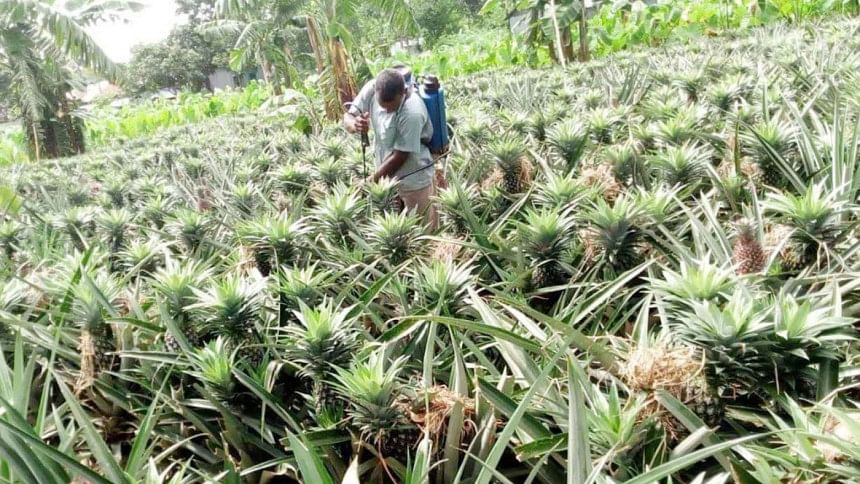 Despite being delicious, pineapples grown in Tangail's Madhupur upazila have grabbed media headlines for all the wrong reasons in the last few years.
They have gotten a reputation of being tainted with chemicals, as farmers use excessive hormones to grow bigger fruits and ripe them ahead of time.
The pineapple growers have been bashed for indulging in such an immoral act for some extra cash, but their side of the story is rarely featured.
But when this newspaper contacted some pineapple farmers, they claimed that they have no choice but to use chemicals, as wholesalers don't want to buy naturally ripened fruits since they start rotting en route to the selling destination.
However, chemically treated fruits stay fresh for a few days, a must for vendors.
"What can we do if wholesalers don't want to buy naturally ripened pineapples?" said Saiful Islam, a farmer from Madhupur's Beribaid.
"When these fruits do ripe naturally, the timing is horrible since we can't find buyers then," he said.
So, we ripen a specific amount of fruits by using chemicals for getting marketers at the right price," Saiful added.
Farmer Shamsul Islam of Aushnara in Madhupur said he wouldn't use chemicals if he got the right price for naturally ripened fruits.
"We incur losses due to lack of proper marketing facilities. The middlemen eat up the profit. The pineapple I sell from my field for Tk 30 is sold in town for Tk 70 to 80," said Toriqul Islam, a pineapple grower in Madhupur's Moter Bazar.
"Due to this reason, we've been demanding food processing industries in Madhupur, incorporating locally grown pineapple and other fruits, But nothing has been done in this regard so far," he said.
Upazila agriculture officer Al Mamun Russel said, "If the government takes steps, we can also export locally grown pineapples abroad. We've already requested the agriculture minister to set up food (fruits) processing industries in Madhupur."
Local physician Dr Anwar Sadat said, "These chemicals are used on fruits all over the world, and they're not that harmful to health if administered in the right doses."
However, he added that local farmers use the chemicals excessively, which is harmful.
According to the upazila agriculture department in Madhupur, pineapples were cultivated on 16,055 acres of land in the upazila this year, which is 1,729 acres more than last year.
The fruits were cultivated on more than 7,000 acres of land in Tangail's Ghatail upazila, Muktagachha and Fulbaria upazilas in Mymensingh and Jamalpur Sadar upazila under the Garh region, they said.
Besides pineapple, many other fruits like mango, banana, orange, guava and papaya, as well as vegetables are produced in Madhupur in large amounts.
Consequently, several hundred shops selling chemicals and pesticides sprung up in the area, profiting crores of taka yearly.
As agriculture officials hardly reach marginal farmers, poor farmers go to these shops and receive suggestions to use these chemicals, with promises of high yield and good colour, said sources.