Charalkata River: Dredged at Tk 130cr, now a cropland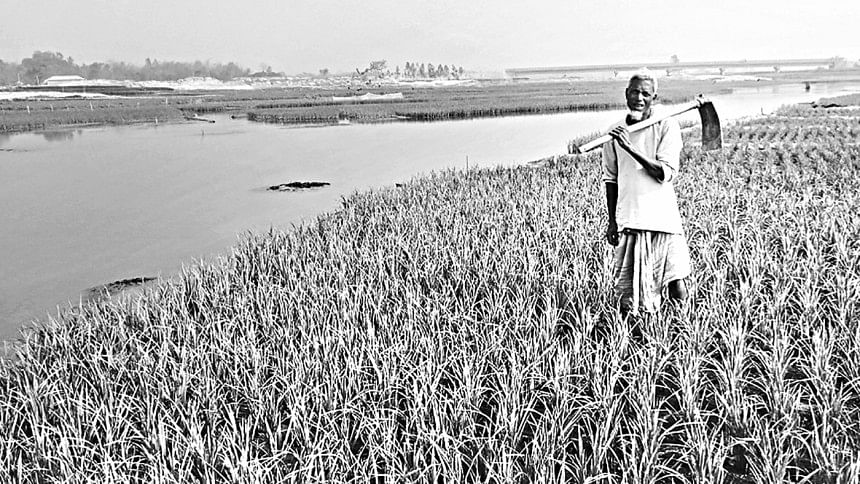 Within one and a half years into the dredging of the Charalkata river, the riverbed has filled up again at different points as sand and earth kept on the banks of the river got deposited to the riverbed in the rainy season.
The river has a course of 90 kilometres and flows through Nilphamari before entering Rangpur.
It was excavated at a cost of Tk 130cr by Nilphamari and Saidpur divisions of the Water Development Board (WDB) under the government's countrywide programme for excavating rivers, canals and water bodies in 64 districts.
However, within a short time after the excavation, the riverbed has filled up again at different points.
Taking the situation as an opportunity, a section of people have taken possession of the newly emerged river land and started cultivating Boro hindering the flow of water and making it a narrow channel.
As per the High Court directive, it is a punishable offence to obstruct the natural flow of a river, informed environmental lawyers.
However, due to a lack of awareness campaign by WDB, most people living beside the river has little knowledge about the directive.
Visiting different spots of the river recently, it was found that the river has shrunk drastically at a number of places while its bed was visible elsewhere.
It was also seen that some people have cultivated Boro paddy in the riverbed at Horish Chandrapat, Ambari, Bamunia Barabisha, Baromashi Ghat, Kachukata, Mohabbat Bazitpara, Kalikapur and many other villages.
Local resident Kaltu Mia of adjacent Kalikapur village in Nilphamari Sadar upazila said, "I have cultivated Boro on three bighas of the riverbed as it has resurfaced and it is unwise to keep it fallow."
Another farmer of the same village Sattayapada Roy, 40, said that the river flows through their land and as the riverbed has emerged again, they deserve the right to cultivate crops.
"At the time of excavation, sand and earth were thrown on river banks indiscriminately, which have found a way to the river again," said Abdul Halim of Bamunia Borobisha village in Domar.
However, farmers cultivating Boro on the riverbed said none from the WDB forbade them to cultivate crops on the riverbed.
Executive Engineer of WDB in Saidpur division Krishana Kamal Chandra Sarker said, "We've manpower shortage to monitor the vast river tract; devastating floods in previous years carried the sand again to the river. If we get a specific complaint of unauthorised cultivation, we'll take legal action."