Aman cultivation: Kurigram, Lalmonirhat farmers suffer due to rain deficit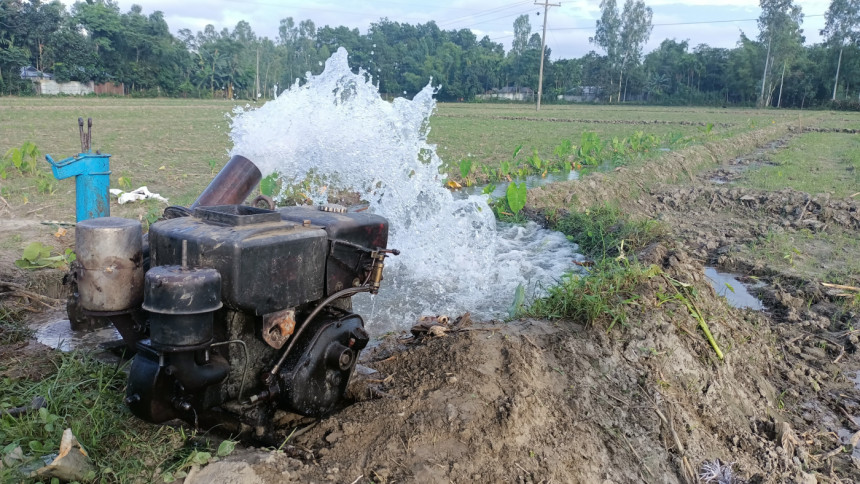 Shortage of rainfall has put farmers of Kurigram and Lalmonirhat in distress and posed a threat to Aman paddy cultivation.
As Aman cultivation is dependent on rainfall, many farmers said their saplings have been gone to ruin in the seedbeds.
Besides, inadequate rainfall forced many farmers to spend extra money to irrigate each bigha of land with diesel-powered shallow machines to cultivate Aman.
Surendra Nath Barman, a farmer from Bholar Chawra village in Lalmonirhat Sadar upazila, had been ploughing the land with rainwater and planting Aman paddy saplings in the past years.
"There has been no rain for the last two weeks. It is a drought-like situation. I had never seen such a situation before. During this period, it used to rain a lot in the past, and Aman cultivation is dependent on rainfall," he said.
He prepared seedbeds to cultivate Aman on 12 bighas of land this year, but low rainfall has brought hardship. Inadequate rainfall forced him to use his diesel-powered shallow machine for irrigation at an additional cost of Tk 1,500-2,000 for each bigha of land.
"Aman saplings were turning red in the seedbed. If the seedlings were not planted in time, they would be ruined. So, I was forced to get the irrigation machine," he said.
Farmer Mahasin Ali of the same village said his land has dried up due to lack of water.
After waiting several days for rainwater, he rented a diesel-powered shallow machine for irrigation.
Another farmer, Abu Taleb, from Burirhat village in Rajarhat upazila of Kurigram said it is difficult for him to cultivate Aman paddy by spending extra for irrigation.
He said many saplings have been going to waste in the seedbed due to inadequate rainfall.
According to Rajarhat Agricultural Meteorological Office in Kurigram, 52mm rainfall was recorded from July 1 to July 13 while it was 886mm in the corresponding period last year.
Shamim Ashraf, deputy director of Department of Agriculture Extension in Lalmonirhat, said only 10 percent of the required amount of rainfall was being recorded at the moment.
Due to the lack of rainfall, farmers have been advised to plant Aman saplings with irrigation water, he said.
Manjurul Haque, deputy director of DAE in Kurigram, said the agriculture department is worried due to the lack of required rainfall at this time.
As farmers have recently benefited from paddy cultivation, they will be keen to cultivate Aman by any means, he added.
According to DAE, a target has been set to cultivate Aman paddy on 1,19,000 hectares of land in Kurigram this year. To implement the target, Kurigram farmers have prepared seedbeds on 7,420 hectares of land.
In Lalmonirhat, the target is to plant Aman paddy on 85,515 hectares and a seedbed of 4,448 hectares of land has been prepared to cultivate the paddy.