'Waterlogging killed my granddaughter'
Death of college student leaves family in despair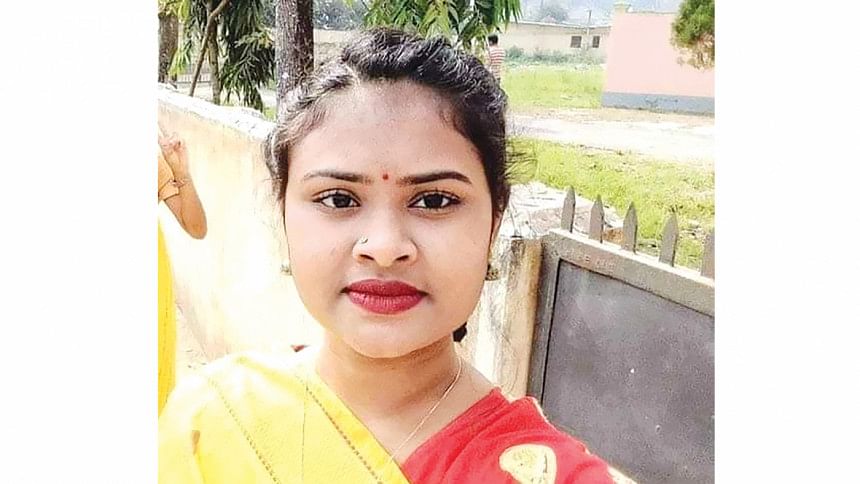 Nipa's life was never easy. At the age of eight, she was abandoned by both her parents, who went into hiding to avoid having to repay their increasing debts, leaving her and her baby sisters behind.
They were raised by her grandparents.
To make matters worse, Nipa Palit was diagnosed with epilepsy (a brain disorder characterised by repeated seizures. After a seizure, the person may remain unconscious for several minutes).
But she didn't give up. She dreamt of taking over her sisters' and grandmother's responsibilities after completing her college education, graduating from a reputable university and landing a well-paying position.
But the waterlogged roads of Chattogram have swept away her dreams, as she drowned near her home at Nandir Hat Badamtoli area in Chattogram's Hathazari upazila on Monday.
She was wading through waist-deep water on her way to college to sit for an exam. By the time some students of Chittagong University living in the area noticed her and rushed to rescue, it was too late, said Sohel Rana, sub-inspector of Hathazari Police Station.
Her family suspect that she could not save herself as she was epileptic.
Nipa Palit, 22, daughter of Uttam Palit, was a student of second year BBS at Hathazari Government College and was the eldest of three sisters.
Visiting her house yesterday, this correspondent observed that Badal Palit, Nipa's grandfather, was mourning his granddaughter.
"Nipa's parents went into hiding when she was 8. I raised her as my daughter and fulfilled all of her demands like a father," said the 75-year-old.
"My granddaughter's dream was to finish her graduation and support her two younger sisters," he added.
Nirubala Palit, Nipa's grandmother, said, "Waterlogging killed my granddaughter. We came to know from locals that she became unconscious while wading through waist-length water."
Umme Habiba, a friend of Nipa, told The Daily Star that Nipa was pursuing studies and taking multiple tuitions to meet her educational expenses.
"But she didn't live to fulfil her dreams. It's heartbreaking," she added.
Meanwhile, Chattogram City Corporation Mayor Rezaul Karim Chowdhury, yesterday visited Nipa's home and gave Tk 1 lakh compensation to her family.
Besides, he promised to give a job to Nipa's younger sister, who is also a college student, at the CCC office.
Gazi Shafiul Azim, councilor of the CCC's South Pahartali ward, said, "I have asked Nipa's family to contact us if they need any help."
Police handed over Nipa's body to her family on Monday night, following an autopsy.
Moniruzzaman, officer in charge of Hathazari Model Police Station said, "We suspect that she drowned in the accumulated water near her residence."
An unnatural death case was filed with the police station, the OC added.