Wall Collapse: Father finds son only to see him die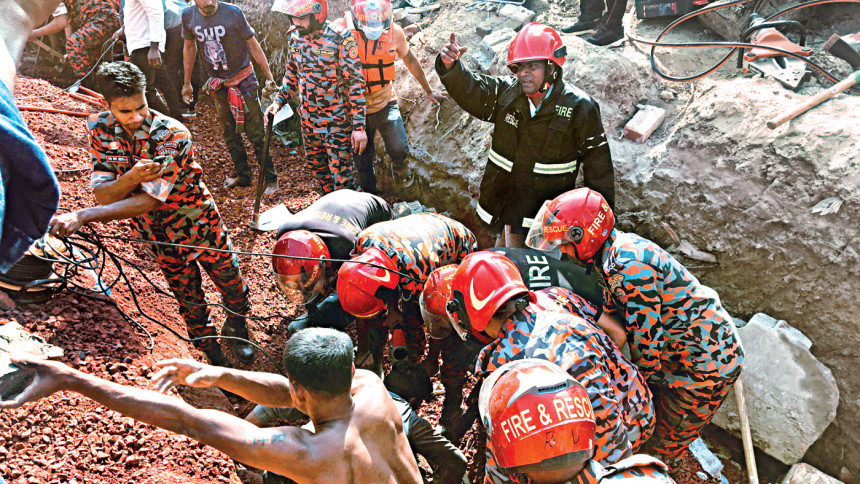 A 35-year-old man died and four others were critically injured as a wall collapsed at a construction site in Chhoto Bongram area of Godagari, Rajshahi, yesterday morning.
The men were digging dirt for the basement of a building when an adjacent wall collapsed on nine of them.
Riajul Islam died soon after he was rescued from underneath the wall and taken to Rajshahi Medical College Hospital.
Enamul Haq, Pilip, Kajem Ali, and Manjur Alam, all aged below 40, were admitted to the hospital with critical injuries.
Riajul's father Mainul Islam also works at the site where a multi storey building is being built. He filed a case with Chandrima Police Station last night against the owner of the site Entaj Ali, accusing the latter of causing death by negligence.
Mainul said there was a wall on the eastern side of the basement and brick chips were piled against it on the other side of the wall.
When the workers began digging, one of them said the wall might collapse because of the weight of the brick-chips.
But they were ordered to continue digging, assuring the workers that no such thing would happen, the grieving father told reporters.
"I heard it because I was working nearby," Mainul said.
"As the workers dug deeper, the wall collapsed with a loud bang around 2.30pm. Me and the other workers went running towards the scene. Moments later, we heard cries from below the collapsed wall."
"After a worker was rescued, I could see my son. He was lying face down. The wall was pressing his face down from the back of his head."
"When we managed to rescue him, I saw him bleeding from his mouth. His teeth were broken."
Mainul, aged 68, whose shirt was smeared with blood, kept breaking down in tears as he described the moments before his son's death.
Mainul left home in the morning with his son Riajul to come to the site. "My son has two little sons. How will I return to his sons without him?"
Emran Hossain, officer-in-charge of Chandrima Police Station, said police were investigating whether the site lacked safety measures.