Together in crisis
People in Chattogram extend helping hands after Sitakunda blast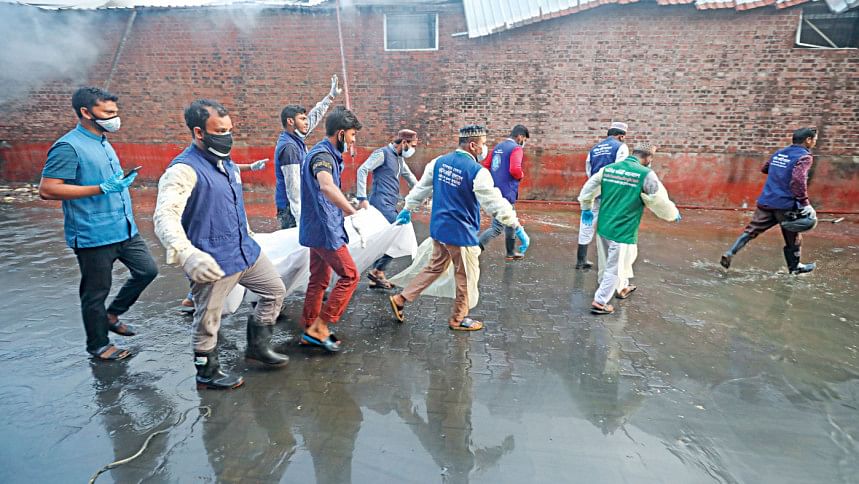 Right after the news of the deadly explosion at Sitakunda BM Depot broke, around 200 students of Chattogram University head out in two buses, in the middle of the night.
Their destination: Chattogram Medical College Hospital, 25km away from CU campus, where severely injured firefighters and depot workers were being taken for treatment.
Their purpose: blood donation and any other possible help they can offer.
Not only students, but youth bodies of different social, political and voluntary organisations also rushed to CMCH to offer their help.
Members and volunteers of Red Crescent Society were active at the hospital the whole night, receiving patients who came at regular intervals, taking them to emergency rooms and shifting them to different wards.
Sujit Rudra, a member of the organisation, said as soon as they heard about the incident, they were asked by their leaders to rush to the hospital.
"Over 200 of our members have been volunteering in the hospital, carrying the patients to different wards and collecting blood and medicines for them," he said.
Md Ismail, a member of Gausia Committee Bangladesh, said, "Hundreds from our organisation have been working here on CMCH premises and the explosion spot. They have been carrying the injured and collecting blood and medicine. We are also carrying the dead to complete the last rites."
Mosaheb Uddin Bokhtair, member secretary of the committee, said their volunteers rushed to the spot and hospitals immediately after hearing the news. "We also supplied food to the attendants of the patients in the hospital," he said.
Meanwhile, pharmacies in front of CMCH delivered free medicine for injured patients, while ambulance services came forward to work the entire night for free, carrying injured patients and dead bodies.
A staffer from Hasan Pharmacy in front of CMCH was seen holding a placard, urging the attendants of injured patients to inform him whether they needed any medicine. 
Despite the utmost conviction with which the doctors at CMCH were treating the injured, lack of human resources remains a challenge greater than ever.
CMCH Director Brig Gen Shamim Ahsan said they were trying their best to deliver the best treatment to the injured, with all the doctors on duty and the medicine store open all night.
That is where Bangladesh Medical Association came to the aid. "All the doctors in Chattogram, including the interns, have been asked to come to the hospital to help treat the injured," said Faisal Iqbal Chowdhury, general secretary of BMA's Chattogram chapter.