The worst of nightmares
CMCH struggling to cope with increasing number of Sitakunda blast patients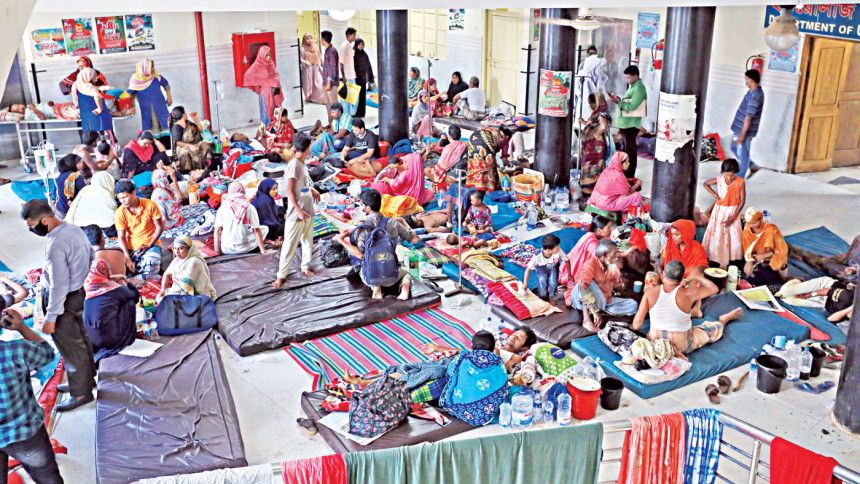 Patients with burn marks all over their bodies, screaming in pain, wrapped in bandages.
Then there were patients with severed limbs. Staring with blank eyes into the abyss that they find themselves faced with. No words in their mouths.
Many were going around -- with pictures of their loved ones who went missing -- asking everyone they came across for information.
Such was the scene at Chattogram Medical College Hospital's (CMCH) Burn and Plastic Surgery unit yesterday, after the explosion that occurred in Sitakunda's BM Depot.
As doctors and nurses were struggling to accommodate and treat so many patients, the cries of the injured and the families of the deceased made the environment unbearably painful to endure for any humane heart.
The unit was already full by the time this correspondent went to the hospital. According to Liton Kumar Palit, CMCH burn unit's assistant registrar, 48 people were admitted to the burn unit till then, sustaining injuries ranging from 10 to 60 percent.
Most of the injured are workers at the depot.
Salauddin is one such worker, currently fighting for his life at the unit.
"We have only been married for six months. I'm expecting our first child," said Parveen Akhtar, Salauddin's wife. "We have been pushed into uncertainty within the blink of an eye."
Many patients were sent to private hospitals and Dhaka due to lack of space and appropriate treatment at CMCH. 
Following the rush of patients, the hospital administration converted its Gynae Ward into a make-shift burn unit, informed Liton.
Due to the space crisis in the hospital, patients occupying the available beds left their spots and took to the floors to accommodate the injured.
"We have 60 bags of negative and 200 bags of positive blood. Many donors have come to the hospital to donate blood. After collecting their information, we have sent them back as no blood is needed at the moment," said Dr Tanzila Tabib Chowdhury, head of the Blood Transfusion Department of CMCH.
As of filing this report last evening, 138 people with burn injuries were admitted to the hospital.
Patients with severely critical injuries will be sent to Dhaka if needed while the rest will be treated in Chattogram, said the hospital authorities.