Reckless driving: Another student killed
Protesters block road and set fire to 9 buses in city's Rampura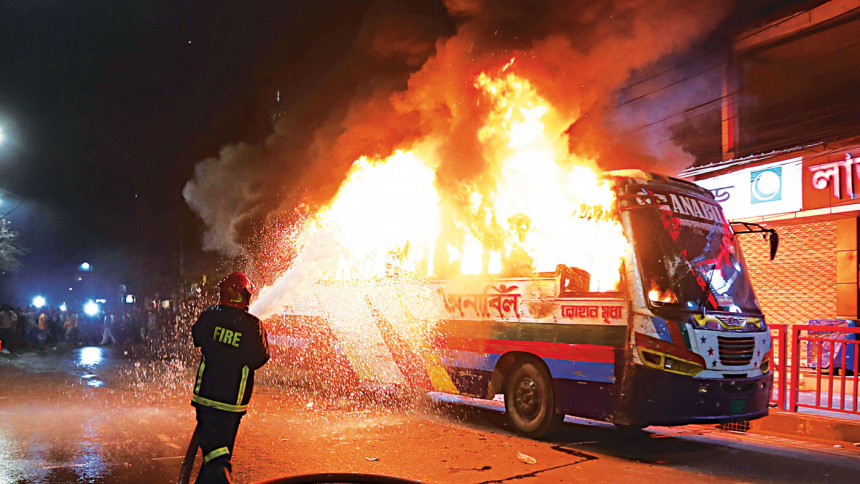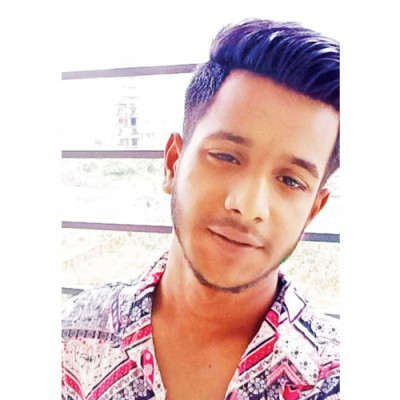 Another student was run over and killed by a recklessly driven bus and a mob in protest vandalised and torched 9 buses on DIT Road in Rampura late last night.
Witnesses said the bus belonging to Anabil Paribahan hit Md Mainuddin Islam, 19, around 9:50pm while he was crossing the DIT Road. As he fell on the ground, the bus went over him.
The bus heading towards Malibagh was racing with another bus, witnesses this paper spoke to claimed.
Soon after the news of Mainuddin's death spread, several hundred of his neighbours from East Rampura rushed to the spot and blocked the road. Many locals and pedestrians joined them.
The protestors then vandalised at least 10 buses and set at least nine of them on fire.
Police then resorted to charging truncheons to disperse the protestors. Locals claimed that at least 20 protestors were injured in police action and that some bus passengers were injured by flying glass from shattered windows.
Ershad Hossain, duty officer of the Fire Service and Civil Defence, said nine buses were set on fire. Four fire engines were trying to douse the flames.
DIT Road was closed to traffic as of filing of this report at 12:30am today.
More than 100 policemen were on the spot.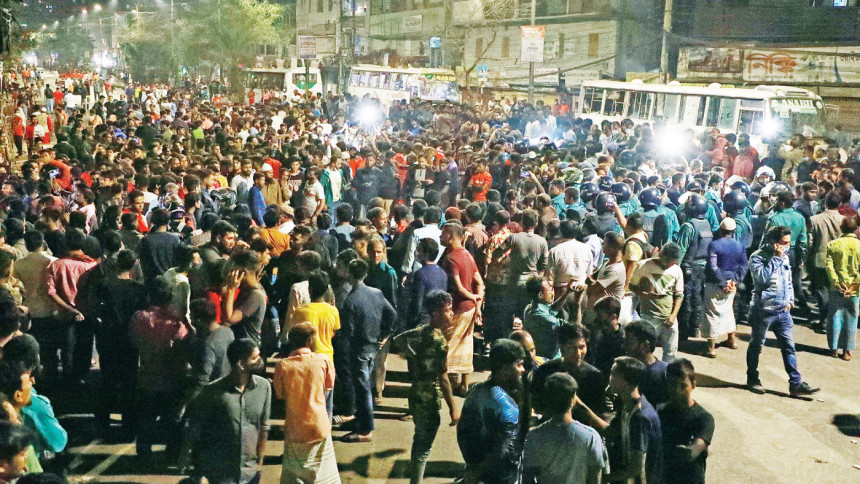 Deputy Commissioner of Motijheel division of DMP Abdul Ahad at the spot said they seized the bus in question and arrested its driver.
Relatives and locals took the body of Mainuddin to their home at Purba Rampura Mollah Bari where several hundred people demonstrated and chanted slogans demanding punishment of the bus drivers involved.
Police, later, took the body for autopsy.
Mainuddin sat for this year's SSC exams from Ikramunnesa High School in the area. He just finished his examination two days ago. Yesterday, was his birthday.
His father Abdur Rahman Bhandari is a tea seller in Molla Bari area of East Rampura. Mainuddin was his youngest among three children.
Abdur said while having lunch yesterday, his son told him that his SSC exams went well and that he wants to study at a good college.
"I told my son that I would definitely get him into a good college, even if I have to beg...," said the father.
The victim's elder brother Badsha Islam said his brother went to meet a friend in West Rampura and was coming home when he was run over.
Mainuddin was killed when students have been demonstrating for safer roads since Notre Dame College student Nayeem Hasan was killed after a Dhaka South City Corporation bus driven by a cleaner rammed and killed him on November 24.