Panchagarh to celebrate Durga Puja without festivities over boat capsize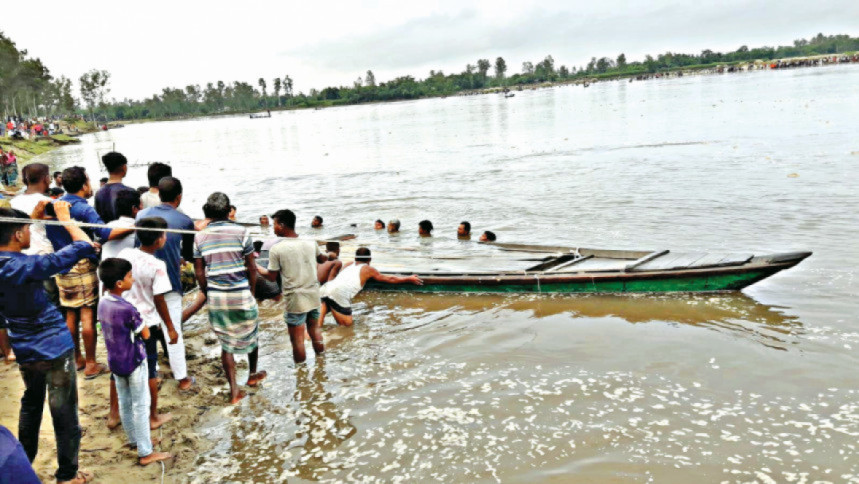 The Hindu community in Panchagarh have decided to celebrate Durga Puja without festivities in a show of respect for the deceased who died in the boat capsize in Karatoa river on September 25.
Leaders of Bangladesh Puja Udjapan Parishad and Hindu Buddhist Christian Oikya Parishad's Boda and Debiganj upazila units held separate meetings in their respective upazilas today (September 30, 2022) and took the decision, our Thakurgaon correspondent reports quoting Bipen Chandra Roy, general secretary of Panchagarh district Puja Udjapan Parishad.
Besides, the leaders of the organisation have also decided to organise special prayers for the eternal peace of the victims' departed souls on the Saptami Tithi and will donate the cash received from the devotees during the puja to the families of the victims, Bipen added.
Earlier on Thursday, the district-level leaders of the two organisations at a meeting held at the Panchagarh Central temple decided to set up a total of 296 puja pandals in the district and celebrate the festival in an unostentatious manner.  
Meanwhile, divers continued their operation in the Karatoa river for the sixth consecutive day to rescue three persons who went missing following the boat capsize.
The relatives of the three missing persons are eagerly waiting to get them back.
The missing persons are: Bhupen Chandra Bharman (40), Surendranath Barman (65), and Joya Rani (4).
A boat carrying more than 100 passengers capsized in Karatoa river at Awalia Ghat in Madea union of Boda upazila in Panchagarh when they were going to attend a religious ceremony organised on the occasion of Mahalaya at Badeshwari temple in Barashashi union in the upazila.
As of this evening, 69 dead bodies have been recovered while three people are still missing, according to control room sources.