One killed, nine hurt in N'ganj explosion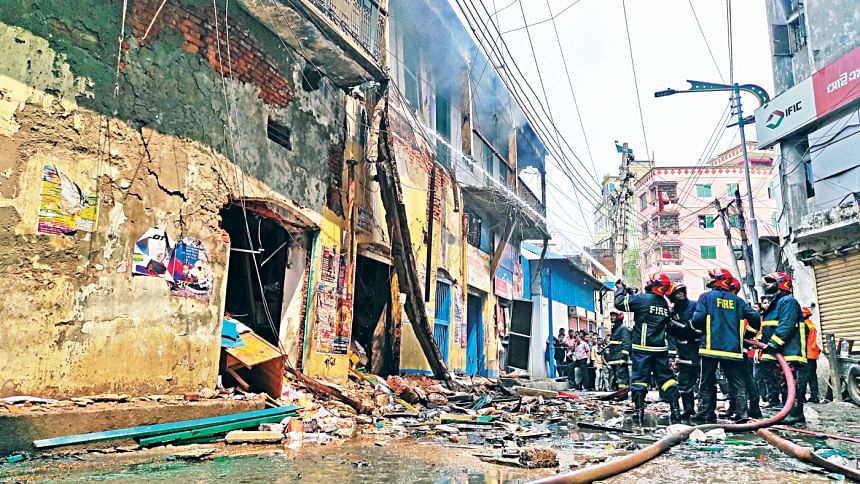 A man was killed and nine others were injured in a fire that broke out after an explosion at a century-old building in Narayanganj's Nitaiganj area yesterday morning.
A few walls of shops, located on the ground floor of the building, collapsed following the explosion, said police.
The dead is Awlad Hossain, 40, said Anisur Rahman, officer-in-charge of Narayanganj Sadar Police Station.
"Seven fire engines worked for one-and-a-half hours till 10:30am to douse the blaze," said Fakhruddin Ahmed, deputy assistant director of Narayanganj Fire Service and Civil Defence.
The explosion took place around 9:00am at the ground floor of the building, he added.
Seven people were hurt when the walls collapsed and two others sustained burn injuries, he further said.
There is a gas line riser beside the building and we assume the explosion had happened due to accumulated gas. The building collapsed easily as it was delipidated, the fire official said.
The ground floor of the building was being used as warehouse to store daily essentials and paper rolls. Labourers used to live on the first floor of the building.
One Ilias Dewan, former president of Narayanganj District Atta- Flour Mill Owners' Association, is the owner of the building, said Abdul Kadir, president of Nitaiganj Retail and Wholesale Multipurpose Cooperative Society.
This century old building was included in the list of delipidated building prepared by a committee comprising with City Corroboration, public works department, fire service and civil defence department, and district administration five years back, said Asit Baran Biswas, councillor of ward-15 in Narayanganj City Corporation.
The committee asked the owner to demolish the risky building but he didn't not pay heed, the councillor said.
Ilias could not be reached after repeated attempts over the phone.