No chance of acid rain caused by hydrogen peroxide: Experts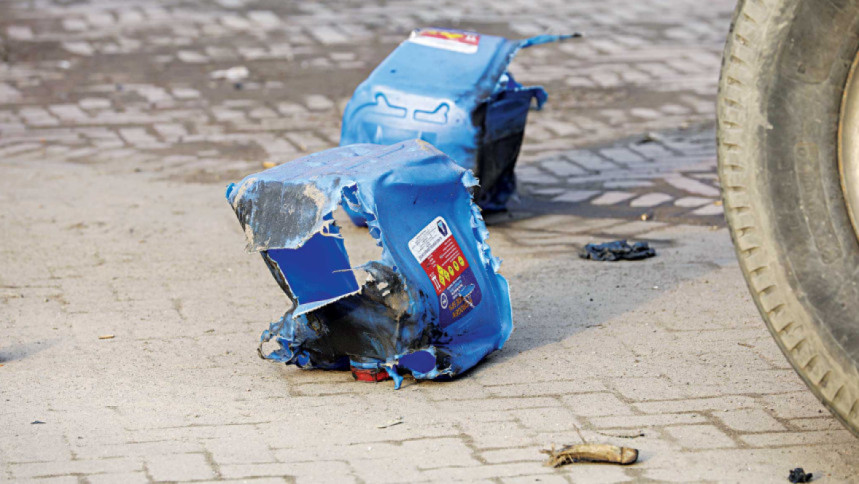 Experts have said there is no chance of acid rain from the hydrogen peroxide which diffused in the air after the explosions and fire at BM Depot in Sitakunda of Chattogram.
"It is a rumour that there may be acid rain from the hydrogen peroxide diffused into the atmosphere," said Dr Md Mominur Rahman, head of Chemical Engineering department of Bangladesh University of Engineering and Technology (Buet).
Some posts have recently been circulating on social media claiming there is a possibility of acid rain due to hydrogen peroxide that was released into the environment after the deadly fire and subsequent explosions at the container depot in Sitakunda.
Refuting any such possibility, Dr Mominur said, "Acid rain happens due to sulfur which reacts with water particles in the atmosphere to produce sulfuric acid. Hydrogen peroxide molecules do not contain sulfur, so there is no chance of acid rain from it if released into the atmosphere since it does not have any acid forming chemical component."
"If hydrogen peroxide is directly exposed to anything it will have a chemical effect, but the Sitakunda fire is unlikely to cause such direct hydrogen peroxide contamination of soil or water so there is less chance of any other chemical hazard," he also said.
He also said that it was wrong to store the chemicals in the depot.
"The depot should not have stored hydrogen peroxide. It has to be stored at a low temperature of 6-8 degrees Celsius, which was likely not possible to maintain at the depot, and it would definitely cause problems if the chemical is kept at a higher temperature. That was the case with Sitakunda BM Depot blasts. Those who stored the hydrogen peroxide at the depot lacked proper knowledge about storing the chemical," he added.
Prof Dr Sayeda Sultana Razia of Buet's chemical engineering department also opined the same.
"I wonder from where such ideas like hydrogen peroxide will cause acid rain even come. It is a rumour. There is absolutely no possibility of acid rain from hydrogen peroxide," she said.
"If it contaminates water then aquatic organisms will be affected due to chemical changes, but it is unlikely that the explosions at Sitakunda depot would cause the chemical to directly contaminate waterbodies," Dr Razia added.
"When it comes in contact with air, hydrogen peroxide releases oxygen and water. It is will not produce acid," said Dr Abdun Noor Tushar.
"It is a chemical used to remove fabric stains and for cleaning wounds. The hydrogen peroxide released in the Sitakunda fire will not possibly cause any significant environmental effect," he said.
"A huge amount of acidic compounds have to burn in order to produce fumes that may lead to acid rain. Nothing like that happened at Sitakunda. What happened there was the chemical being exposed to higher temperature that led it to release oxygen and energy which caused the oxygen to expand and eventually explode, while the water released by hydrogen peroxide evaporated," Tushar added.
Translated by Anindya J Ayan