Narayanganj fire: Concerned citizens form 19-member probe committee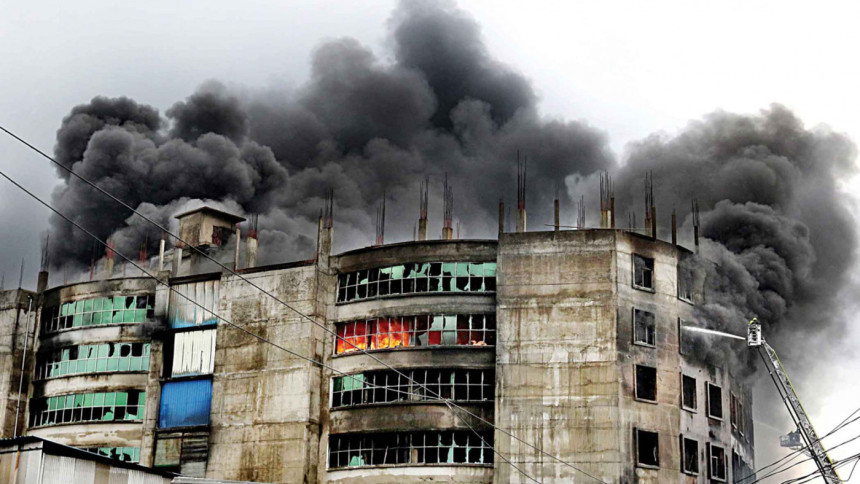 A platform of conscious and concerned citizens formed a 19-member committee to probe the devastating fire at Hashem Foods factory in Narayanganj that left some 51 workers, many of them children, dead on July 8. 
The committee was formed following a virtual meeting of the citizens held yesterday, according to a press statement. 
Barrister Jyotirmoy Barua has been appointed convener of the committee while Advocate Mahbubur Rahman Ismail has been appointed member secretary. 
The other members of the body include Professor Anu Muhammad, Dr Md Harun-Rashid, architect Mobassher Hossain, engineer Mosharraf Hossain, journalist and columnist Sohrab Hassan, educationist and human rights activist CR Abrar, Professor Gowhar Noim Wara, Professor Tamzim Uddin Khan, researcher-journalist Priscilla Raj and Maha Mirza, artist and activist Bithi Ghosh, journalist-columnist Faruk Wasif, Bangladesh Labour Institute trustee Golam Murshed, Bangladesh Garments Workers' Solidarity president Taslima Akhter Lima, Garments Workers' Freedom Movement president Shabnam Hafiz, Garments Workers' Unity Forum general secretary Shahidul Islam Sabuj, and researcher-rights activist Rezaur Rahman Lenin. 
The probe committee at virtual meeting unanimously decided on its next steps which include finding direct and indirect causes of the fire; forming a comprehensive list of the deceased, injured and missing workers after investigation; estimate the damage incurred; finding out whether there were irregularities regarding construction, infrastructure of the factory and working condition; determining whether labour laws were followed properly at the factory; investigating if the owners of the factory and concerned departments of the government were negligent in their duties; and determining credibility of information in these regards; among others – in a bid to identify those responsible for the tragic incident and bringing them to book, and ensuring legal justice and compensation for the victim workers and their families, so that similar incidents could be averted in future by safeguarding workers' rights. 
The meeting also agreed that the committee will seek necessary information and cooperation from the concerned government and non-government entities for preparing an independent, impartial and credible probe report. 
Eight persons, including chairman and managing director of Sajeeb Group who owns the Hashem Foods and Beverages Ltd factory in Narayanganj, have been arrested in connection with the devastating fire incident so far.