Miracle baby
Dying mother gives birth at the scene of accident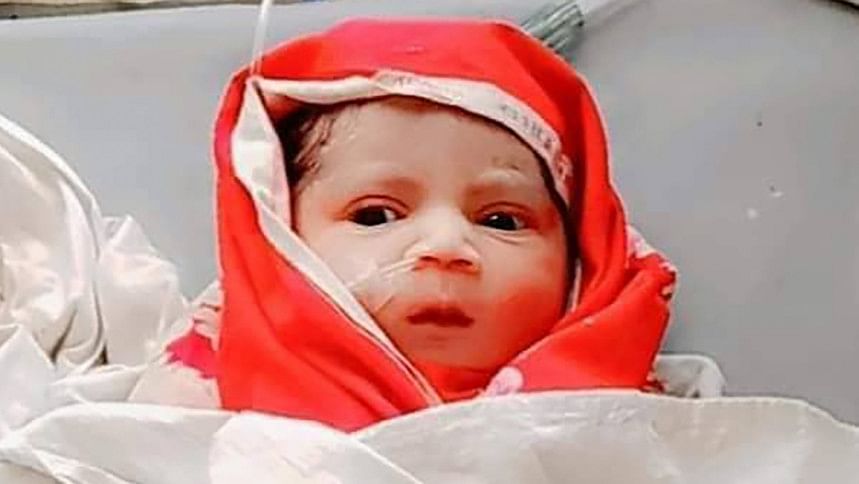 The birth of a baby is among the happiest moments in a parent's life. But for Ratna Begum, her happiness was short-lived: she died soon after.
She was headed to the diagnostic centre for her routine pregnancy check-up when an onion-laden truck hit them while at the Court Building area of Trishal upazila of Mymensingh yesterday afternoon.
Her husband, Jahangir Alam, and her daughter Sanjida died on the spot. But the 26-year-old survived long enough to give birth to a girl, said Mohammad Mainuddin, the officer-in-charge of Trishal Police Station, quoting locals.
"Ratna gave birth on the spot in critical condition," he said.
Locals rushed to the spot and rescued the newborn. They took the baby to the Trishal Upazila Health Complex and later to a private hospital.
An injury on the baby's right shoulder was detected after an X-ray, said Jahangir's brother Sharif Uddin.
"But she is out of danger now," he added.
Ratna and Jahangir, who used to work as sub-contractor, left behind an eight-year-old daughter Jannat and a six-year-old son Ebadat Hossen.
"Our family has been ripped apart," said Jahangir's sister Masuda Akther.
Coincidentally, Jahangir's brother Shamsul died in the same way in 2015 in the same area, according to Masuda.
Police seized the onion-laden truck but the driver managed to flee the scene, Mainuddin said, adding that the dead bodies were handed over to the family members.