'Ma breathed her last in my arms'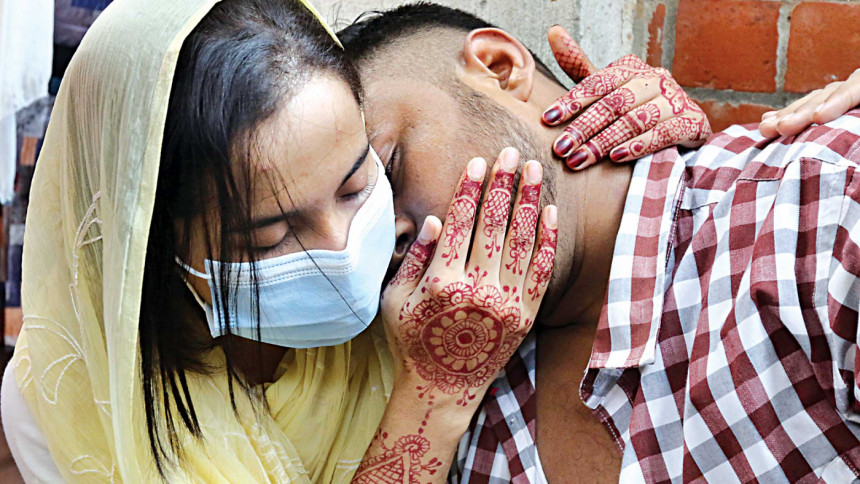 For Ria, the newlywed who narrowly escaped death during Monday's accident in Dhaka's Uttara, trauma and tragedy knew no bounds.
"My mother [Fahima] took her last breath in my arms…
"I also watched my aunt, Jhorna and her two children being crushed under the girder," she somehow managed to say while at the Shaheed Suhrawardy Medical College morgue.
Ria, a second-year student at Narayanganj's Tolaram College, and her husband Rezaul Karim Hridoy, a grocer, were among the seven passengers of a private car partially crushed by a segment of a box girder attached to a crane.
The two were the only survivors.
Immediately after the accident, Ria and Hridoy were rescued and rushed to a hospital for treatment. Doctors yesterday said the couple was out of danger.
They went to the morgue around 10:00am yesterday, and waited till 4:00pm, to bid their family members the final farewell.
"I wasn't even able to hear my mother's last words to me. Her mouth, nose --  everything had blood pouring out," she said, unable to contain her tears.
"I couldn't do anything to save her … How will my brother and I live without her?"
Her maternal aunt, Jhorna, died with her two children Jannath and Jakaria on her lap.
Jakaria was crushed to death while he was peacefully asleep in his mother's arms.
"My aunt enjoyed my wedding so much that even though her husband left for Jamalpur after the wedding, she did not go. She stayed with us…
"Since the death of my father, she always helped support my family."
Jhorna's husband, Jahirul Islam, could not come to Dhaka to help collect the bodies as he fell severely ill after hearing about the deaths of his wife and children.
"Why did they toy with peoples' lives? We've lost everything. We want the highest form of punishment for those responsible."
Hridoy, who lost his father in the accident, asked, "Who will be held accountable for this sheer negligence?
"We are pleading [the authorities concerned]! Please take proper steps so that no other family faces such a tragedy again."
The bodies of Fahima, Jhorna, Jannath and Jakaria were taken to Melandah of Jamalpur, while the body of Rubel, father of Hridoy, was taken to the Meherpur for burial.