Survivors now worry about future
Injured workers want proper compensation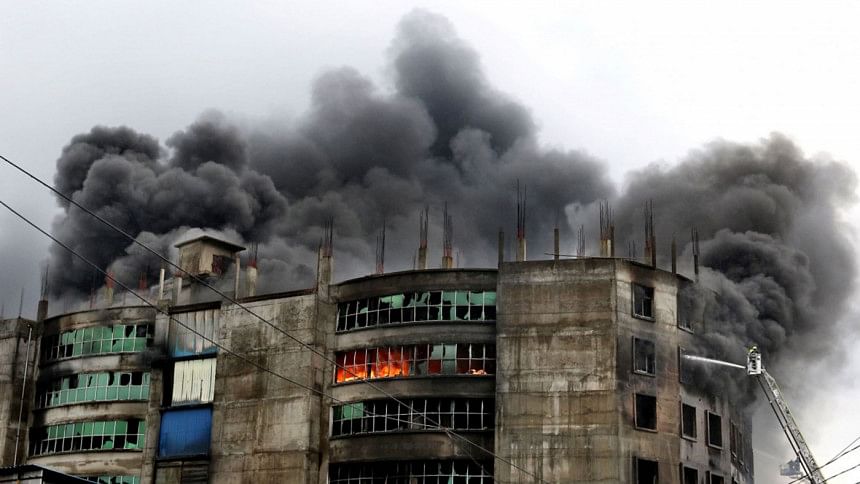 Two months ago, her husband fractured his leg in an accident on his way home from Dhaka to Rupganj.
With three growing children and an injured husband, Monwara Begum, 35, joined Hashem Foods Limited just 15 days ago to meet her family's needs.
However, before she could get her first salary, Monwara was face to face with the biggest tragedy of her life so far. A deadly fire occurred at the factory she worked in and burned 51 employees to death.
Knowing that she would have to escape somehow or burn to death, Monwara jumped off the second floor of the building. She ended up breaking her limbs.
Like her, six other workers, who jumped off the building, are now undergoing treatment at the US Bangla Hospital.
With pain and plastered arms and legs, they are now worried about the treatment cost and their future.
Speaking to The Daily Star from her hospital bed, Monwara said, "When I tried going downstairs, I saw fire on the staircase and came back to the second floor. By that time, smoke engulfed the whole area... The heat made us feel like our flesh was melting. I thought of jumping off the second floor and some others too fell down on me and I lost consciousness. Once I got back my senses, I found myself in hospital.
"My injured husband is starving. Who will look after my children? Who will bear the expenses of my treatment?"
Like her, Sonia Akhter was in bed-1, Rozina in bed-2, Maria in bed-3, Nadia in bed-4, Monoara Begum in bed-5, Ruma in bed-6, and Ashraful Islam in bed-5 of the men's ward.
Sonia, 14, started working, with a salary of Tk 5,600, at the factory since her father was unable to continue work due to the lockdown.
"It's been a month and a half. She was about to get the salary, but the chance of that has also faded. Now I don't have money for food at home. How can I arrange treatment for my daughter?" asked Abdul Quader, Sonia's father and a day-labourer.
"Sonia's left arm is broken. Doctors said an operation, which will cost around Tk 50,000, has to be done. If the operation doesn't take place in two to three days, she won't be able to work with that hand. Where will that money come from?"
Sonia's elder sister Rima, 16, who worked on the ground floor, also survived the fire.
In the six-storey building, the third floor was from where 48 bodies were recovered. Several workers alleged that the gate of the floor was locked and that's why most of the casualties were on that floor, where cream-chocos, ice bars, chocolates, and lollipops were manufactured.
A police official, wishing not to be named, said they would investigate whether the supervisor of the third floor, Mahbubur Rahman, received any instructions over phone to force the workers to stay on the floor.
Meanwhile, the workers said the government announced the provision of some money as compensation but only a little amount of that was actually provided.
Police on Saturday arrested the owners of Hashem Foods Ltd -- Md Abul Hashem and his four sons. Three others, accused of burning 51 employees to death, were also arrested. They all are now on a four-day remand.
Meanwhile Gonoshasthaya Kendra founder Dr Zafrullah Chowdhury, Ganosamhati Andolon chief coordinator Zonayed Saki, and Awami League organisational secretary Mirza Azam, were among others, who visited the spot yesterday.
Zafrullah said it cannot be called an "accident", because it looks like a "premeditated murder".
"It's an overall failure of the government. There is an industrial department, their inspectors are supposed to come and inspect at what distance the chemicals should be kept. If they would come here, they would understand where the danger was... All the basic rules were violated. But what happens here, because of corruption, is that they submit reports without proper inspection,"
He demanded a compensation of Tk 50 lakh for each of the deceased person.
Zonayed Saki, chief coordinator of Ganosamhati Andolon Bangladesh, said the Department of Inspection for Factories and Establishments is a place of a sheer negligence and corruption.
"They visit factories for money. If these government officials, including factory inspectors, are brought under the law, there will be no such incident in Bangladesh in the future. It needs to be properly investigated. We want justice."