Info on BM depot removed from Smart Group website
Families of 2 accused astonished over FIR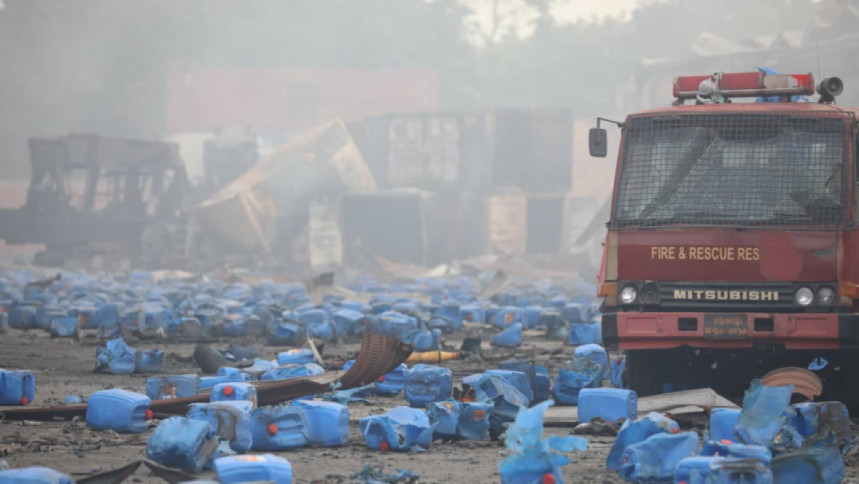 Chattogram-based Smart Group, a partner of BM Container Depot Limited — where a devastating fire broke out, killing 45 people — has removed information on the depot from its website.
While visiting the website of Smart Group over the last two days it was found that information on BM Container Depot was entirely erased. Information on their other concerns, however, are visible under the website's "Concerns" tab.
Information on the company, its chairman and director are also hidden on the main website www.bmcdl.com. On the website of BM Depot, a condolence message shows up.
When asked about this, Shamsul Haidar Siddique, General Manager (GM) of Smart Group, told The Daily Star, "I was not informed about this. I will find out why it happened and will inform you later."
This correspondent called him twice today (June 9) but he did not pick up. An official of Smart Group said that following the blast and fire, the group owners are very worried, and to uphold their image abroad, they may remove the information.
Though BM Depot information was removed from the Smart Group website, photo of the depot was found in the gallery of the website.
Smart Group is one of the partners of the depot. The chemical compound hydrogen peroxide, stored in the depot, belonged to Al-Razi Chemical Complex —a subsidiary of Smart Group. Smart Group has investments in garments, LPG and food products.
According to the Smart Group website: "With growing of business over the years the group has also diversified into the energy, logistics, real estate , media, food and various sectors. Its pioneering and entrepreneurial spirit, coupled with innovativeness, has been displayed by entities such as BM Energy (BD) ltd., BM Container Depot Ltd., The Daily Pourbodesh, City Home Properties Ltd., BM Cylinder Manufacturing Plant and BioINCEPTION LTD. (SBioL) etc."
According to the company's earlier website data, the chairman and managing director (MD) of BM Container Depot are Bert Pronk and Mostafizur Rahman respectively while Mujibur Rahman, brother of Mostafizur, is the director of the depot.
INJURED BUT MADE ACCUSED
Meanwhile, family members of two BM Depot officials, who were made accused in a case on charge of negligence, said police filed the case against them intentionally while the duo is fighting for their lives in the hospital after being injured in the fire.
Eight BM Depot staffers, including the duo, were made accused in the case.
FIR accused Nurul Akter, the deputy general manager (Operation) and Khaledur Rahman, manager (Admin) were critically injured in the fire and subsequent explosion on June 4 and admitted in two separate hospitals with burn injuries.
Among them, left hand of Nurul Akter was amputated following the blast. Khaled is being given treatment at Sheikh Hasina National Institute of Burn and Plastic Surgery with 12 percent burns.
Nurul's wife Naznin Nahar said her husband worked in the container depot since 2013. He is involved with administration not the safety and security issue.
Despite having serious injuries police made him accused which is very shameful, she said.
Nurul has been shifted to a private hospital from Chattogram Medical College Hospital (CMCH) for better treatment.
At least 45 people were killed and over 200 people were injured in a devastating fire subsequent blast in the container depot in Sitakunda's Keshabpur area on June 4 night.