Garage fire spreads to residential building in Rajshahi; 1 injured
10 residents rescued; fire doused after 2 hours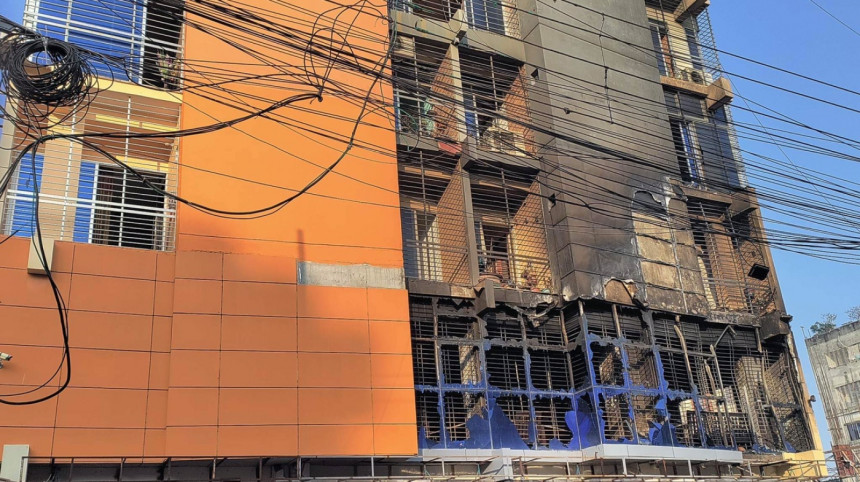 A fire broke out at a garage and spread to an adjacent 12-storey building in Rajshahi city's Kumarpara early today, police and fire fighters said.
One resident of the building was sent to Rajshahi Medical College Hospital as he fell sick after inhaling smoke, Md Ohidul Islam, deputy director of Rajshahi divisional fire service and civil defence said.
Fire service received the information at 4:20am, but the fire broke out due to an electric short circuit at the garage much earlier, said Abdur Rouf, senior fire station officer.
The fire fighters rescued at least 10 residents of the building who took shelter on the building's roof, he said adding that other residents managed to get out of the building safely.
Eye witnesses said they heard a number of explosions from the car workshop. Fire fighters explained that those explosions were from wielding gas cylinders, and tyres.
At least five cars in the workshop, a newly built convention center in the residential building and three floors of the building were damaged in the fire.
The building also developed cracks on its walls, the firefighters said.
"We noticed the fire from two kilometres away while we were approaching the scene," he said adding that the fire originated at the garage already started damaging parts of the building.
"We will investigate what caused the delay. We found no night guards on duty both at the garage and the building," said Md Ohidul Islam.
Some of the residents informed police, who then informed fire service officials. The building residents were not aware of the fire service phone number.
All of the city's 12 units of firefighters took two hours to douse the fire, he said.
"I've never seen such a big fire. I started running after hearing the explosion," Golap Sardar, a nearby hotel owner said.