Freak accident takes lives of 3 BAEC officials
Bus with no fitness certificate rams parked bus, T-bones a truck, goes into oncoming traffic and hits staff bus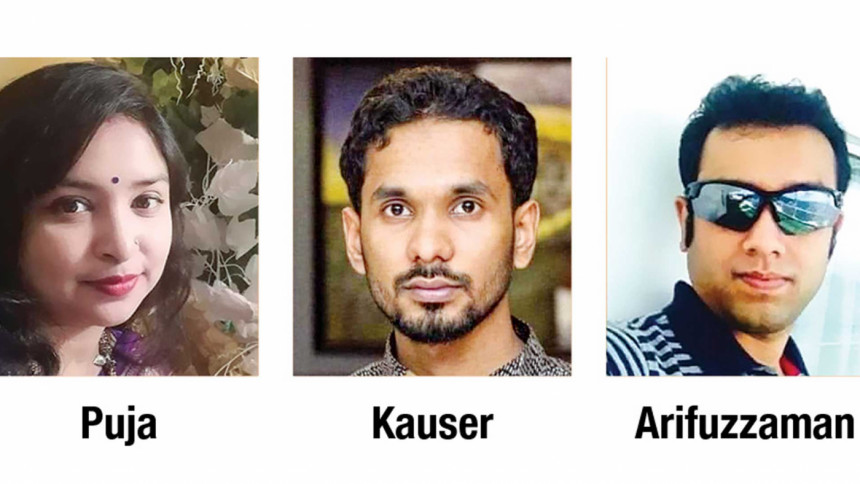 Four staffers of the Bangladesh Atomic Energy Commission, including a pregnant woman, were killed in a crash on Dhaka-Aricha highway in Savar yesterday.
The commission's senior scientific officer Arifuzzaman, 34, scientific officer Puja Sarkar, 28, and engineer Kauser Ahmed, 29, died at Enam Medical College Hospital soon after they were taken there with critical injuries. Rajib Hossain, driver of the staff bus they were in, died at the scene, police said.
Puja was five-month pregnant, they added.
At least 20 others, including nine employees of the commission, were injured.
Atikur Rahman, officer-in-charge of Savar Highway Police Station, said the accident took place around 9:00am in Boliarpur area.
The driver of a speedy bus of Safe Line Paribahan lost control of the vehicle and caused the accident, he said.
The bus first hit a bus parked by the road and then swerved into a cattle-laden truck, he said.
The bus then hit the road divider, broke it and hit the BAEC bus on the other side of the road, he added.
The injured were rushed to Enam Medical College Hospital in Savar after the crash.
Some of them were in critical condition and got admitted to ICU and NICU.
Atikur also said they were trying to identify and locate the bus driver who went into hiding right after the accident.
A case would be filed soon and police are trying to collect documents of the bus, he added.
Savar BRTA Inspector Sazzadur Rahman said the vehicle's fitness certificate was updated the last time in 2014 and taxes were paid the last time in 2015.
The vehicle did not even have a route permit, he said, adding that they did not find any number plate on the bus while visiting the spot.
Contacted, Abdus Salam, traffic inspector of Dhaka (North) district police, said they were primarily suspecting the bus had some mechanical faults.
However, it would be difficult to point out the faults as the engine was completely damaged in the accident, he added.