Firefighters think on their feet to rescue 18-yr-old from 4th-floor cornice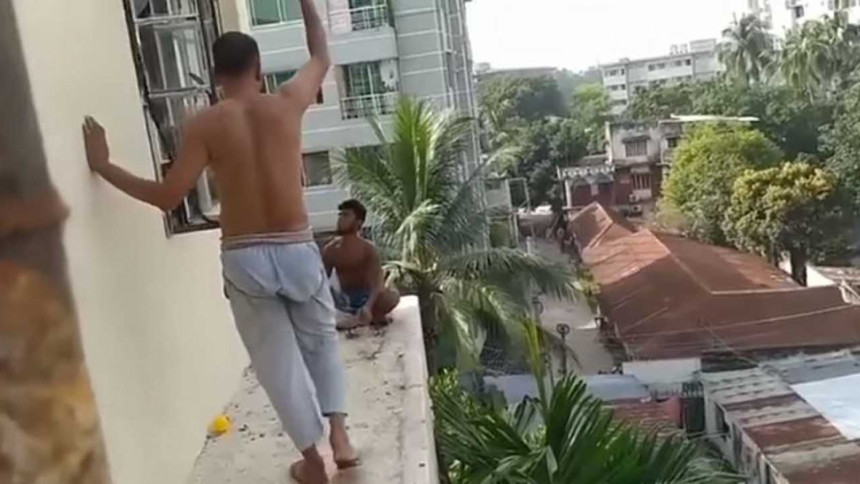 On Thursday morning, an 18-year-old boy was poised precariously on the fourth-floor cornice of a building, causing onlookers to fear that he might fall to his death at any time. 
But the boy was smiling and smoking a cigarette when firefighters rushed to the building in Dhaka's Bhasantek around 7:15am.
The firefighters said that the boy was suffering from some sort of mental disorder, which raised fears that he may fall off his precarious perch.
"We were tense, fearing he may jump off any time. That's why we used a trick to save him," said Md Shahabuddin, senior station officer of Mirpur Fire Station.
One of the firefighters, Mizanur Rahman got on the cornice in a safety harness and distracted the boy by dancing, singing and shouting things like "boat" and "Brazil" to draw his attention.
Gradually, Mizan approached the corner of the cornice where the boy was sitting and grabbed him.
Then, other fighters rushed there and rescued him.
The boy said his name was Rakib and he was from Faridganj upazila of Chandpur. But the firefighters were not sure it was his real identity as he could not say anything clearly.
The owner of the house said Rakib climbed the sewage pipe to reach the fourth-floor cornice.
It took firefighters nearly two hours to rescue him.
When the boy was rescued, he was still laughing, said people who witnessed the drive.