Festivity turns tragic as newly-weds end up in hospital following fatal crash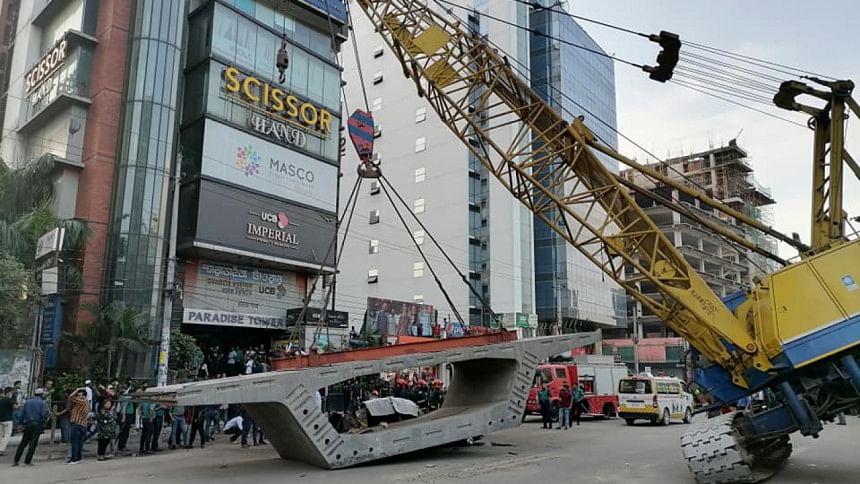 They were all in a festive mood as the son of the family got married just two days ago.
The newly-wed couple -- Hridoy and Riya Moni -- along with five other relatives in the car were heading towards the bride's house in Ashulia's Khejurbari.
The couple lost five family members inlcuding Hridoy's father Md Rubel Mia (60), Riya Moni's mother Fahima Begum (37), Fahima's sister Jharna (26), and Jhorna's two children-- Jannatul (6) and Zakaria (4).
All the deceased hailed from Islampur upazila of Jamalpur, according to the fire service officials.
The groom's father Rubel, a businessman, was driving the car when a viaduct segment fell on the vehicle in the Jashim Uddin area in Uttara.
The festivity turned tragic within seconds as five of the passengers died, police said.
"We rescued two persons from the car alive. They are newly-married couple-- Riya Moni (21) and her husband Hridoy (25)," said Mohammad Mohsin, officer-in-charge of Uttara West Police Station.
They are undergoing treatment at Uttara Crescent Hospital, OC Mohsin said. They have already learnt about the deaths of their relatives.
Hridoy is a grocery shop owner in Kawla area, his cousin Rakib Hossain told The Daily Star.
According to hospital sources, Hridoy sustained injuries on his right leg. However, Riya Moni was unhurt in the accident. They are traumatized and suddenly are bursting into tears.
Hridoy got married on Saturday (August 13, 2022) and the family was in a festive mood since then, said Rakib.