A frantic search for loved ones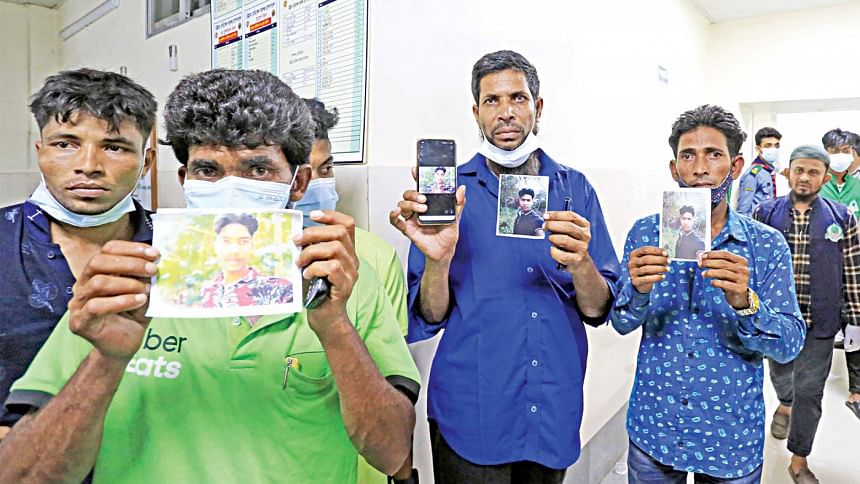 Abdul Majid was scurrying from place to place to find his son since late last night.
From Chattogram Medical College Hospital, he went to the gate of the BM Depot, where a massive explosion, followed by a blaze, so far took 49 lives and injured hundreds.
He then came back to CMCH, desperate to see his child.
Among the piles of charred bodies left on the floor, it was hard for Majid to recognise his son. At least 12 hours later, he was finally able to identify his son Robiul Alam, 18, from his ragged, burnt clothing.
"My son, a labourer at the depot for the last seven months, called me around 10:06pm saying fire. I had asked him to get out of the situation as soon as and in any way possible. I know he tried, but he could not make it.
"The pain my son must have gone through while dying in that fire!" Majid wailed.
A day labourer from Chattogram's Banshkhali upazila, Majid had sent his son to the depot to help with family expenses in the face of price hikes.
While he was at least able to find his son's body, many were still seen frantically searching for their loved ones at the CMCH.
Md Rasel from Sitakunda could not locate his elder brother till the filing of this report at 9:20pm last night.
"My brother had been working at the depot as a covered-van driver for the last 15 years. He last called his wife on around 9:00pm on Saturday [the day the fire occurred]. We have had no trace of him since then."
He was seen at the entrance to CMCH's emergency unit pleading volunteers to let him see his brother, dead or alive, for one last time.
Kamal Uddin was looking for his younger brother -- Salauddin Sabuj, a firefighter who was one of the first responders to the fire and is believed to have died in the explosion.
"If I could just identify my brother, I would at least be able to bury him.
"My brother was so brave… I always asked him to leave this profession as it, more often than not, risked his life. Not only did he not listen to me, he was one of the first ones to rush to douse the fire and try to save the lives of others."
Meanwhile, Shahjahan, from Sitakunda's Kumira area, found his brother-in-law, a driver for the depot, writhing in pain at the hospital. He, however, could not trace his 18-year-old nephew, an office assistant in the same place.
"All the bodies are unrecognisable [from burns]. How will I identify my nephew? How will I console my sister about her son's death?"