Eight Bangladeshi umrah pilgrims die in Saudi bus crash
18 of the injured are also from Bangladesh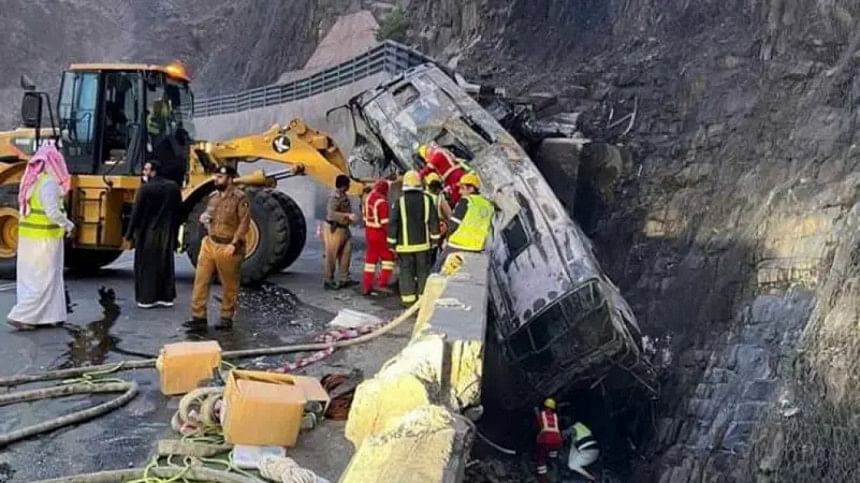 At least eight Bangladeshi umrah pilgrims were killed and 18 others were injured when a bus rammed into a car, rolled over, and caught fire in Saudi Arabia on Monday.
According to a BSS report and a press release from the foreign ministry, pilgrims from different countries were on the Makkah-bound bus.
The bus apparently lost its brakes before the crash in the southwestern province of Asir, BSS reports.
Consul General of Bangladesh Consulate in Jeddah Muhammad Nazmul Hoque said there were 47 people on board. Of them, 35 were Bangladeshi migrant workers.
"Twenty-two people were killed in the accident," he said, adding, "Bodies were burnt beyond recognition. It may require DNA tests to identify all of the deceased."
The foreign ministry said the eight deceased are Shahidul Islam, son of Shariat Ullah of Noakhali's Senbagh; Mamun Miah, son of Abul Awal of Cumilla's Muradnagar; Md Helal Uddin of Noakhali; Sabuj Hossain of Laxmipur; Rasel Mollah of Cumilla's Muradnagar; Md Asif from Cox's Bazar's Maheshkhali; Md Imam Hossain Roni of Dhaka's Tongi; and Ruku Miah, son of Kalu Miah of Chandpur.
Nazmul said they have been able to locate 18 injured Bangladeshis having treatment in different hospitals.
"We have sent a two-member team to the spot. They are talking to the migrant workers as well as the Saudi authorities to help the Bangladeshis," he added.
The foreign ministry released two phone numbers -- +966538643532 and +966553026814 -- that the family members concerned could call for information.
Md Arifuzzaman, secretary of the labour wing at the Jeddah consulate, said four migrants -- Gias Uddin from Comilla, Shefayet Ullah from Moheshkhali (Cox's Bazar), Nazmul Hasan and Rony from Jessore – are missing.
Families of the deceased have urged the government to bring back the bodies as soon as possible.
"I hope that my husband's body will be brought back soon," Khuki Begum, widow of Helal Uddin of Noakhali, told The Daily Star last night.
Helal has a three-year-old daughter. He left for Saudi Arabia 13 months ago.
Aunt of deceased Mamun Miah, 28, Taslima said, "Just six months ago, Mamun went to Saudi Arabia to seek his fortune. All is finished now."
Prime Minister Sheikh Hasina expressed deep shock at the death of the 22 people.
In a condolence message, she prayed for the eternal peace of the departed souls and expressed deep sympathy to the bereaved families.
She instructed the foreign minister and mission officials to look into the treatment of the injured Bangladeshis.