DGHS and CID personnel visit Ctg's BM Depot, collect samples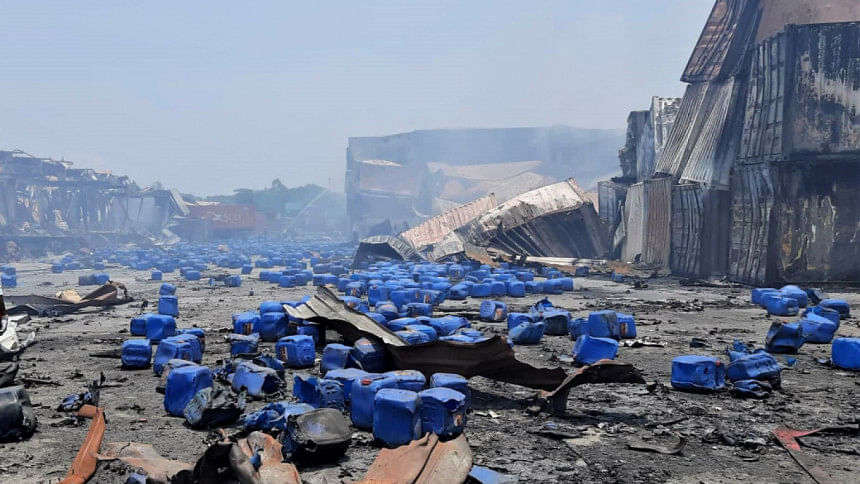 A team from the Directorate General of Health Services (DGHS) visited BM Container Depot in Sitakunda of Chattogram today (June 10, 2022), five days after a devastating fire broke out there.
The team led by Prof Dr Nazmul Islam, director of epidemic control of DGHS, collected samples from the spot, our Chattogram staff correspondent reports.
Civil Surgeon of Chattogram, Dr Ilias Chowdhury, who accompanied the team, said, "The samples would be tested in laboratory to assess what impact those would put on the human bodies living in and around the accident area." 
They will also assess whether people will suffer from illness in the long run, Dr Ilias added.
Then the team members will make a guideline, said the civil surgeon, adding that respiratory tracts of people in and around the site are damaged mostly in such incidents.
He requested the locals to see doctors at the Upazila Health Complex if any physical problem arises.
A team from Criminal Investigation Department (CID) also visited the depot today. The team led by Shahnewaj Khaled, superintendent of police (CID) in Chattogram, collected samples from the spot during the visit.
Shahnewaj told The Daily Star that the samples collected by the team would be tested in laboratories for the sake of investigation to know the reason of the fire and blast in the depot.
Meanwhile, the work on removing the debris has been going on in BM Container Depot. The workers are removing the containers in the depot with crane and other equipment, Major (retd) Shamsul Haider Siddique, general manager of BM Container Depot, told The Daily Star.