Deaths in Karatoa: Boatmen's inefficiency, unfit engine key reasons
Says govt probe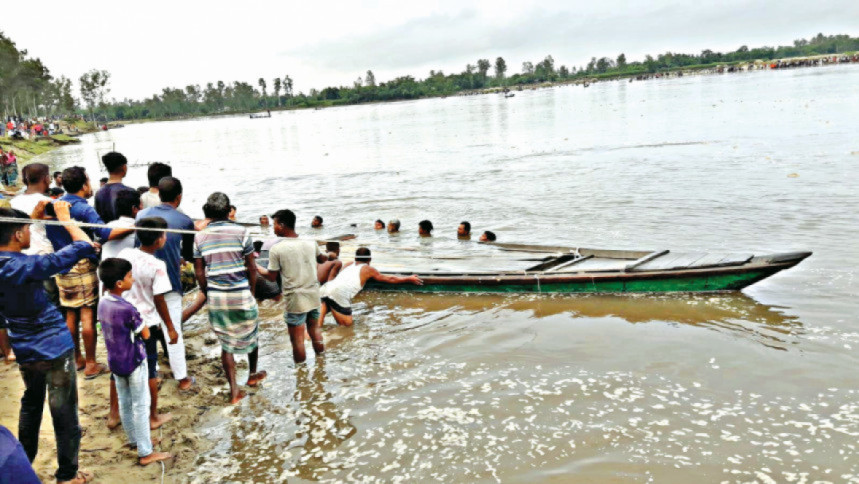 An unfit engine boat and incompetence of the boatmen were key reasons behind the boat capsize in the Karatoa in Panchagarh, says the committee formed to probe the incident, which claimed at least 69 lives.
Meanwhile, three of the passengers are still missing.
The probe team mentioned six other reasons for the accident.
In its report, it also made five recommendations to avert such tragic incidents in the future, said Md Jahurul Islam, deputy commissioner of Panchagarh.
Speaking to The Daily Star over phone yesterday, he said the main reasons that the committee found behind the capsize were – breach of clauses in the lease agreement for Awalia Ghat; irresponsibility on part of the lessee in dealing with the huge crowd of passengers; inefficiency of the boatmen; faulty engine of the boat; and passengers boarding it despite warnings of overcrowding.
Most passengers were pilgrims on their way to observe the Mahalaya.
Jahurul, however, did not mention the recommendations made in the report.
Asked, he said the next steps will be taken according to the decision of the higher authorities concerned, after separate investigations by the police, fire service, civil defence and the shipping ministry are completed and the reports are submitted.
Earlier on Sunday, Additional District Magistrate Dipankar Roy, head of the five-member probe committee, submitted the report to the DC. The committee was formed by the district administration the day of the incident.
On September 25, an engine boat, carrying 105 people, capsized in the Karatoa while heading to Bodeshwari Temple from Awalia Ghat in Boda upazila.
According to fire service officials, the 47ft long and 10.5ft wide boat had the capacity to carry only 30-40 people.
After the capsize, six people were able to swim ashore, 27 people were rescued alive, and 69 bodies were recovered.
Three passengers -- Jaya Rani, 4, Bhupendra Nath Burman, 42, and Surendra Nath Barman, 65 -- remain missing. 
Meanwhile, a local fire service patrol team has been given charge for rescue operations. 
Since the incident, Abdul Jabbar, the person who took the lease of Awalia Ghat from the Zilla Parishad under a Tk 9 lakh contract, is said to be absconding.