Same drain, same danger
Child goes missing in Chattogram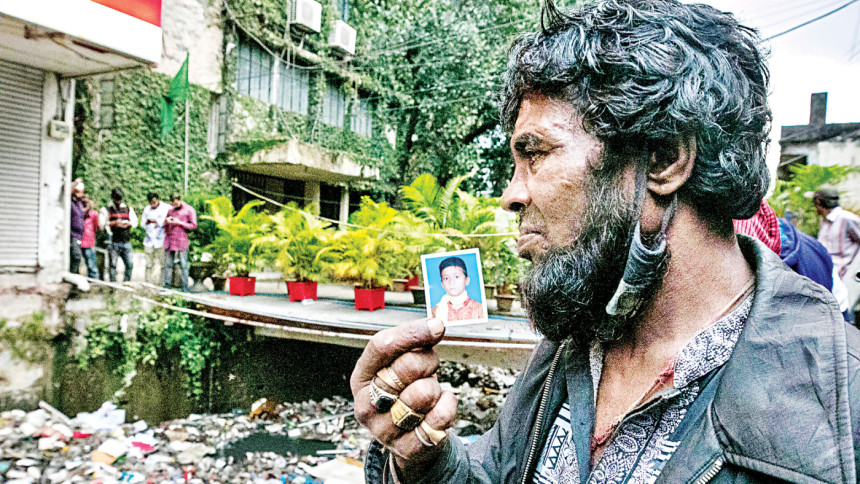 A 12-year-old boy has been missing since falling into a drain in Chattogram on Monday -- the third incident in just over three months of people dying or disappearing following a fall into open drains in the port city.
On September 28, the body of 19-year-old university student Sehrin Mahbub Sadia was recovered after she had fallen into a roadside drain the previous day.
The drain where 12-year-old Kamal fell into on Monday afternoon -- at Sholashahar Railway Station area under Panchlaish Police Station -- is the same one in which 55-year-old vegetable trader Saleh Ahmed had fallen into on August 25, near Muradpur intersection.
Saleh has since been missing despite a seven-day rescue operation by Chattogram Fire Service and Civil Defence divers.
Locals informed the fire service of Kamal's disappearance yesterday afternoon after his family could not find him for 24 hours.
Fire service divers rushed to the spot and started a rescue operation around 4:30pm, said Farid Ahmed, sub-assistant director of Fire Service and Civil Defence, Chattogram.
"Our divers started rescue operations, but there is no breakthrough till now," he told The Daily Star around 5:00pm yesterday.
Locals said two boys -- Rakib and Kamal -- from the nearby slum were playing in the area on Monday afternoon. Both had fallen into the open drain around 4:30pm; Rakib managed to get out, but Kamal could not.
Kawsar, Kamal's grief-stricken father, was found showing people his son's photograph in the hope that they had seen him.
The open drains in the port city have become a death trap for some time now. In June, a CNG-run auto-rickshaw driver and a passenger were killed as their vehicle fell into a drain at Chashma Hill in Hill View area.
Contacted, Town Planner Subhash Barua said drains in the port city have been left open and accidents are happening due to the sheer negligence of the authorities.
"The Chattogram City Corporation cannot avoid responsibility for these accidents," he said. "Why have the drains been left open? Why were they not covered up?
"You need not be an engineer to sense it. Just common sense is enough to understand that leaving drains open may cause accidents," he said.
Contacted, Rezaul Karim Chowdhury, CCC mayor, said he has come to know of the incident of Kamal's disappearance.
Asked about his pledge to cover all open drains, Rezaul said this particular drain could not be covered up as the Chittagong Development Authority (CDA) has been working on it as part of a mega project to address waterlogging.
"We will cover it up after the CDA completes its work," he said.
Asked when the CDA would hand it over to CCC, the mayor said he did not know.
"We have already covered up many  drains," he said when asked how many drains they covered up in the last two months.