Ctg depot fire: HC asks for causes, people responsible for it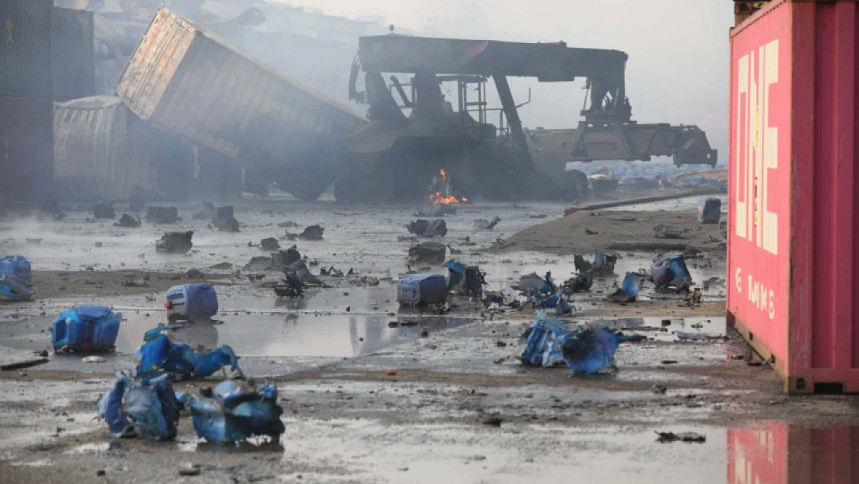 The High Court today (August 10, 2022) directed the government to immediately form an expert committee to find out the causes and people responsible for the devastating fire at BM Container Depot in Chattogram's Sitakunda in which 52 people were killed and more than 200 were injured in last June.
The secretary to the ministry of energy and mineral resources has been ordered to constitute the committee led by a professor from the Chemical Engineering Department of Bangladesh University of Engineering and Technology (BUET) for this purpose.
In response to a writ petition, the HC also asked the expert committee to submit its report before this court within three months, Deputy Attorney General Arobinda Kumar Roy told The Daily Star.
At the same time, the HC also issued a rule asking the authorities concerned of the government and container depot to explain in four weeks why they should not be directed to give adequate compensation to the families of the victims who were killed and injured in the fire at BM Depot and why negligence and failure in preventing the incident and to bring the fire under control immediately should not be declared illegal and why legal action should not be taken against them.
In the rule, the court asked the officials concerned of the government to show causes why they should not be directed to provide sufficient training and equipment to the firefighters to modernise them so that they can easily bring any fire under control.
The HC in the rule asked the officials to explain why they should not be directed to make declarations about the container depots' chemicals and to make them public; and enforce the relevant rules for storing the chemicals in the designated places, petitioner's counsel Mohammad Humayun Kabir Pallob told The Daily Star.
He said 20 people including the secretaries at the ministries of energy and mineral resources, and commerce; and owners of BM Container Depot and its partner Smart Group have been made respondents to the rule.
The HC bench of Justice Md Mozibur Rahman Miah and Justice Kazi Md Ejarul Haque Akondo came up with the order and issued the rule following a writ petition filed by rights organisation Law and Life Foundation seeking necessary directives.
Humayun said the state has submitted a probe report from the deputy commissioner of Chattogram to the HC, saying that the responsibility for the incident of fire at BM Depot primarily goes to the exporters and depot authorities.
The probe report submitted by the state is not clear and specific though it has made several recommendations to avert such incidents in future, he added.