Buildings tilt as CDA digs canal in Ctg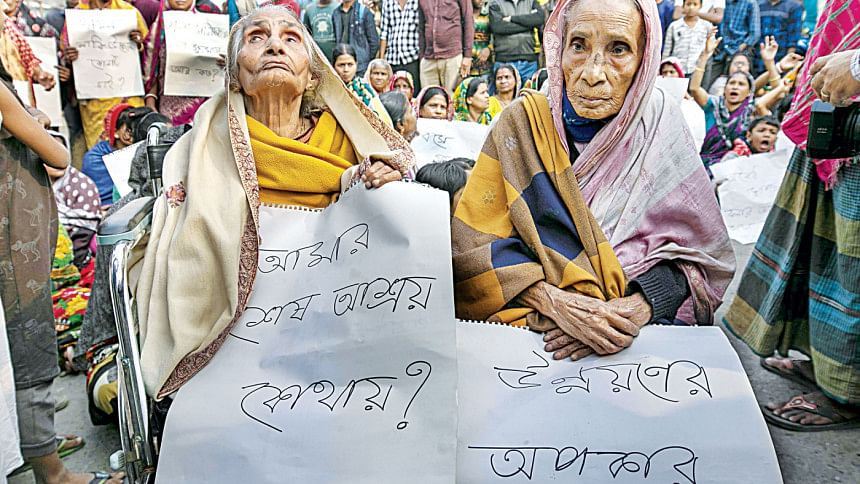 Three buildings and five tin-roofed houses were evacuated in Majirghat area of Chattogram yesterday hours after they tilted to one side amid the excavation work of a nearby canal.
The structures, including a Hindu temple, tilted on Monday night as the Chattogram Development Authority was digging the Gulzar canal, said Shakhawat Hossain, officer-in-charge of Sadarghat Police Station.
"We have deployed police forces in the area and urged locals to evacuate the damaged buildings and houses," the OC said.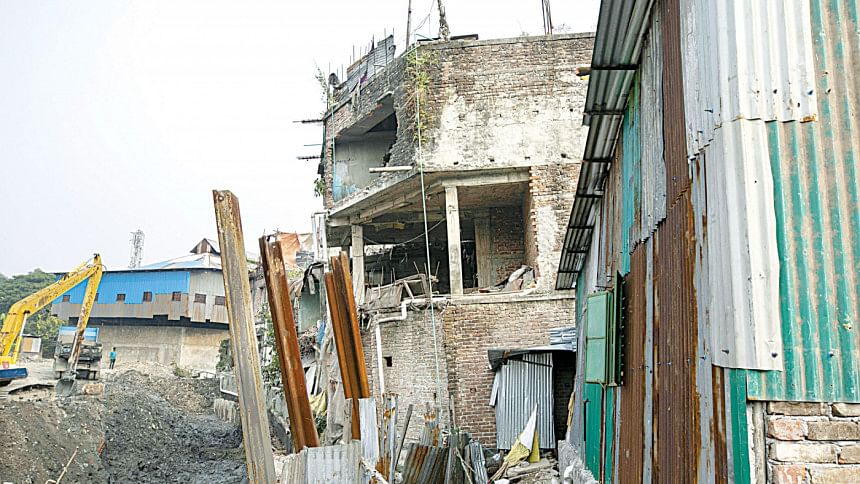 However, Newton Das, deputy assistant director of Chattogram Fire Service and Civil Defence, said only one three-storey building and a temple tilted due to the canal excavation in the city's Majirghat area.
"We have urged locals to leave the area as it becomes riskier," fire service official said.
Around 1:30pm yesterday, hundreds gathered in the area to protest the CDA continuing with their canal excavation work.
Locals alleged that the CDA did not stop their work even after the houses and the temple tilted.
Swapon Das, a resident of one of the buildings, said, "CDA didn't stop their work even after our houses and the temple became tilted.
"We have been living here from the British era. We have land documents. I have constructed the building around two years ago with the approval from CDA," said Swapon Das, who showed this correspondent documents.
"When we protested, CDA people threatened us," said Punom Das, another resident of the affected area.
Kolpona Das, an elderly woman who was part of the protest, said, "They have damaged our houses. This is injustice. The government should protect us."
Kazi Hasan Bin Shams chief engineer of CDA, said, "The owner of the buildings have illegally occupied the land. We will take stern action against them."
Ahmed Moinuddin, executive engineer and canal excavating project director of CDA, did not answer his phone despite several attempts to reach him.