'All that we earned through hard work is gone'
Fire guts at least 50-60 shanties at Karail slum, shattering dreams of many
Six years back, Moyna Begum, 30, and her rickshaw-puller husband came to the capital from Sherpur's Jhenaigati area for a better future.
The couple rented a room at Karail slum, admitted their two daughters to a local school and bought every necessary household item, one at a time, with hard-earned money.
But all turned to ashes as a fire ripped through a part of Karail slum in the Mohakhali area this afternoon, ravaging at least 50-60 shanties.
Moyna had no other way, but to stand beside the debris of her burnt shanty.
"We could save nothing. Fridge, TV, bed and showcase and Tk 20,000 -- all that we earned through hard work is gone," Moyna, who works at houses as domestic help, told this correspondent.
Moyna said they also took a loan from NGO. To pay the debt, they kept TK 20,000 at home. The money was gone too.
Not only Moyna, but other residents who lost their houses to the fire have similar stories to tell.
Nine-month-pregnant Sajeda Begum, 23, was resting in her room when the fire broke out.
"My husband was at work. My three-year-old son and I hurriedly came out of the room when we heard screams. There was a mobile phone and Tk 8,000-10,000 kept for my delivery purpose. All is gone in the fire," she added.
According to locals, the fire originated from a house in the slum's Beltola area around 4:30pm. Nine firefighting units doused the fire around 5:33pm.
At least 50-60 shanties got burnt, said Lt Col Mohammad Tajul Islam Chowdhury, director (Operations and Maintenance) of Fire Service and Civil Defence Directorate.
He said they launched a probe to determine the cause of the fire.
Visiting the slum, this correspondent saw illegal connections of electricity and gas criss-crossing the slum.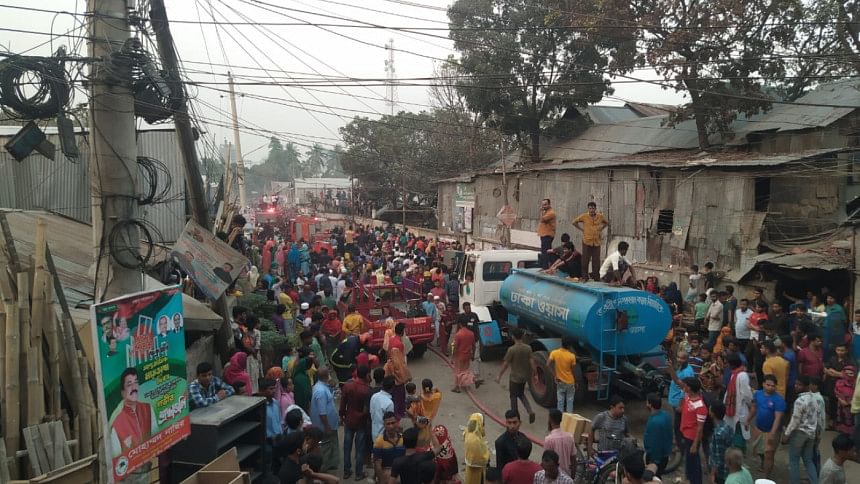 Fire at the Karail slum is nothing new.
Several deadly fire incidents took place there. Illegal gas and electric lines, all faulty and risky, pose a grave danger to one lakh people living in Karail Bosti, a slum built on 90 acres of government land in Mohakhali.