Aftermath of the blaze: Dark days ahead for traders of Bangabazar
Business unlikely to bounce back, they fear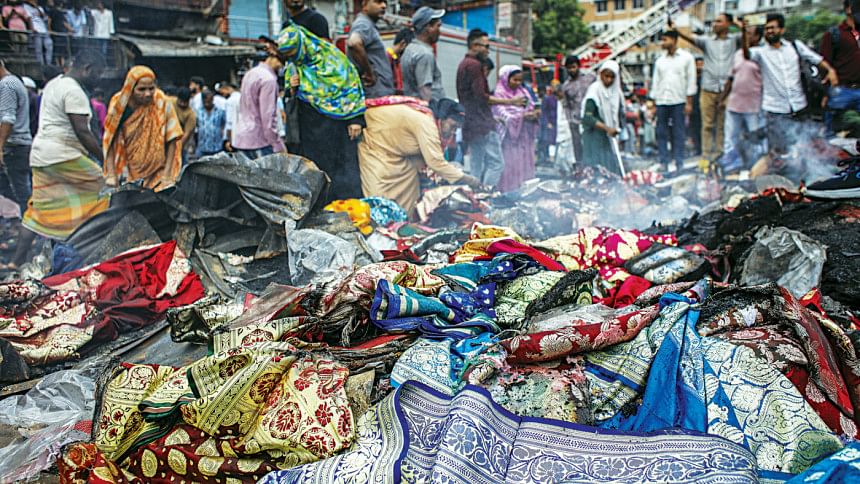 Nur Alam, 60, a seasoned trader of Bangabazar, is still traumatised by the fire that took place there 28 years ago, in the same way as the recent one. During that time, it took him only a year to bounce back. However, this time he is doubtful whether that can happen.
"I lost everything in the 1995 fire. But the market came back to business in just two months and I was able to recover from the losses," he said.
Amir Hossen, 65, another trader running his business in the market for years, echoed the same.
On Tuesday, a massive fire razed the Bangabazar clothing market to the ground, gutting thousands of shops and driving the traders towards a financial meltdown.
Traders say that back in 1995, business was small in scale, so it was easier for the businesspeople to bounce back, but now, the trade in Bangabazar has proliferated to such an extent that they fear it will take a long time to get back to the previous situation.
For example, Zakir Hossain, who started out small but now is a big supplier to Bangabazar, is in significant financial trouble.
He lost Tk 4 lakh of clothing in the recent fire. Furthermore, he has given clothing items worth Tk 18 lakh to traders of Bangabazar on credit and has items worth Tk 30 lakh in his warehouse. "If there is no business in Bangabazar, who will I sell to? How will I get back my money?" he asked.
To recoup losses, traders now want to restart their business immediately. As the concrete market that Dhaka South City Corporation (DSCC) plans to build there will take a lot of time, they want an alternative solution for the time being, possibly setting up shop at the open space.
In the least, they want a way to continue doing business during Ramadan, a time when the business peaks.
Abdur Rahman, president of Mohanagar Shopping Complex at Bangabazar, told The Daily Star, "We are exerting all our efforts to re-open the market as soon as possible. We will meet the DSCC mayor so that we can run our businesses for the rest of the Ramadan days,"
At least 2,931 shops burnt to ashes in the recent fire, which required 48 units of firefighters to douse the blaze.