3 couples die in freak road crash
Three more killed in the pileup in Gopalganj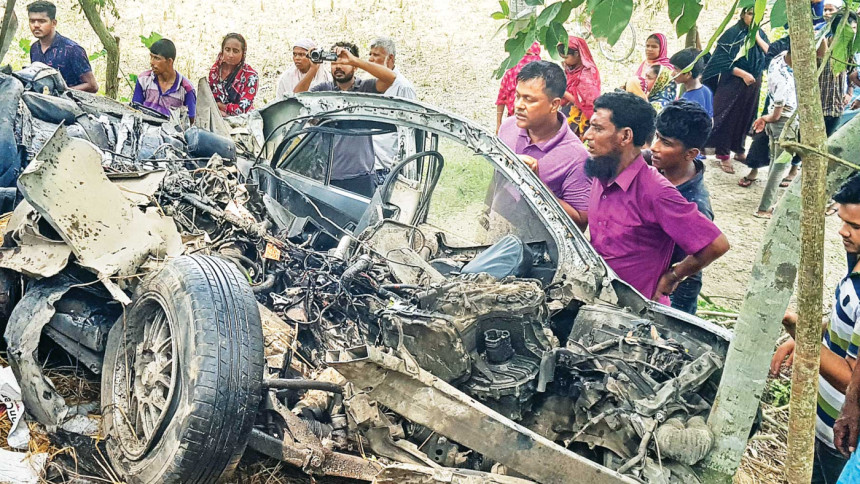 Lives of three couples and three others came to a tragic end in a three-vehicle pileup in Goplaganj's Kashiani upazila yesterday.
A chain of events lead to the tragic accident.
Locals and sources said a couple was threshing paddy on the side of the Dhaka-Khulna highway in Dakshin Fukra area around 11:00am. Some hay eventually got on the highway which a couple on a motorbike tried to swerve right to avoid. A car was trying to overtake the bike at that very moment and it had to move right to avoid hitting the bike. But it put the vehicle squarely in front of a bus of Rajib Paribahan, which was heading for Dhaka from Pirojpur.
The head-on collision flung the car on to the motorbike and the thrashing machine the couple was using.
Bashudev Saha, 52, an anesthesiologist of Birdem in Dhaka, along with his wife Sibani Saha, 44, and son Sapnil Saha, 20, who were in the car and going to Gopalganj to visit Bashudev's ailing mother, died on the spot. So did car driver Ajijur Islam, 44.
The couple on the motorbike -- Anik Raham Babu, 28, and Yasmin Aktar, 19 -- also died on the spot.
The mangled remains of the car landed on Firoj Mollah, 55, and his wife Ruma Begum, 40, who were threshing paddy. They were killed on impact.   
The bus flipped on its side on the road, killing its passenger Altab Hossain Khan, 50, said Sirajul Islam, in-charge of Bhatiapara Highway Police Outpost in Gopalganj.
At least 25 bus passengers were injured in the accident, he told The Daily Star.
On information, fire service members, police and locals rushed to the spot,  recovered the bodies and rescued the injured.
Road traffic was suspended on the highway for about half an hour after the accident, said police.
Lelin Saha, 48, younger brother of Bashudev, said, "My brother was going to our village home to see my ailing mother. I talked to him over the phone about an hour before the accident. But he is now gone for ever."
Deceased Firoj's neighbour Tinu Mollah said Firoj was a physically challenged person. He used to thresh paddy with the help of his wife. The accident has left the couple's three school-going children orphaned.
Abu Nayeem Md Mofazzal Haque, OC of Bhatiapara Police Station, said they earlier recommended that the authorities set up a central reservation on this particular section of the highway as accidents occur here frequently.