Road Accidents: 169 cops killed in last 3 years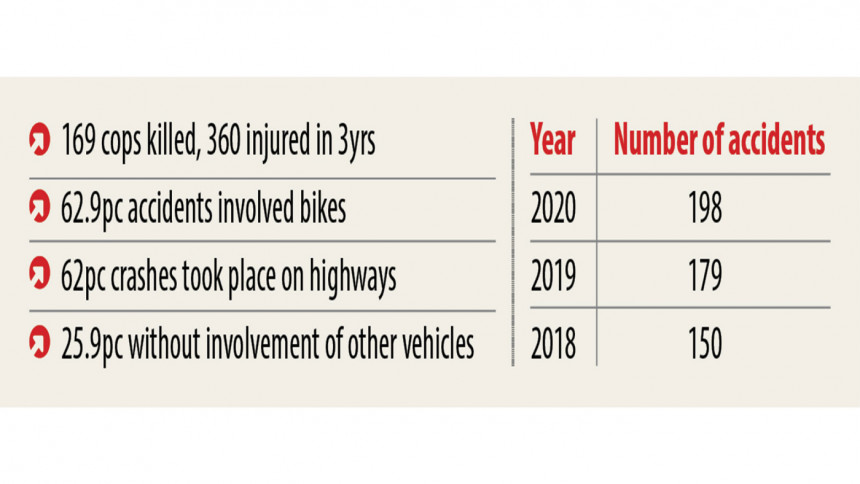 The number of road accidents involving police personnel is growing every year, with 62.9 percent of the accidents involving motorcycles.
According to Police Headquarters data, road mishaps involving police officers saw a 32 percent jump last year from that of in 2018. It also stated that 198 road accidents took place last year, which was 179 in 2019 and 150 in 2018.
Around 62 percent of the accidents took place on regional and national highways, while 25.9 percent accidents occurred where no other vehicle was involved other than the one being driven by the officers, the PHQ data reveals.
With many of the accidents taking place when officers were travelling in motorcycles to and from their home and workplaces in nearby districts on weekly holidays, PHQ in February instructed officers not to travel between districts on motorcycles for official and private business reasons, or vacation.
In road mishaps of the last three years, at least 169 officers met their tragic end, while 360 were wounded. Some 58.4 percent of the victims were either driving bikes or were pillion passengers.
Many officials said a good number of police members are being killed in motorcycle accidents while going to other destinations from their duty station on vacation.
While leaving their duty station, they verbally inform their immediate chiefs and do not inform the district superintendent of police, which is mandatory, said an official.
In some cases, even though an officer went out of station on weekly holiday without informing SPs and then died in an accident, the SPs approved documents showing them to be on-duty, so that the victim's family gets compensation, said several officials.
The issue came up during a three-day crime review meeting at PHQ in September,
attended by SPs of all districts and other top officials.
According to meeting sources, Inspector General of Police Benazir Ahmed said, "We do not want this sort of deaths, and we need to stop such practices."
Contacted, Abdur Razzak, assistant inspector general of Planning and Research-2 at  PHQ, said, "We have initiated a research, collecting data from all the police units, so that we can analyse the incidents to identify the causes and take measures to curb such accidents."