12 containers sink twice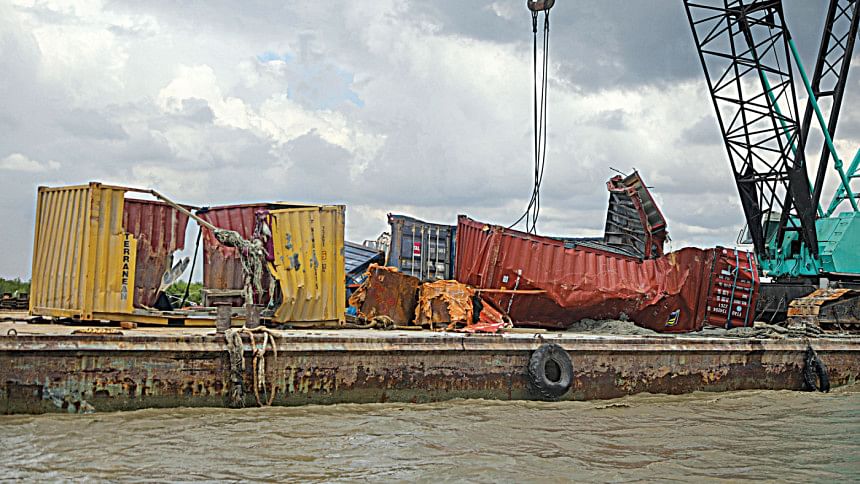 After 23 shipping containers were salvaged from the sunken vessel Pangaon Express, a barge carrying 12 of those ended up tilting and sliding them back into the water in the Karnaphuli channel on Thursday night.
Chittagong Port Authority (CPA) officials said all 12 containers were under water and only five of them could be fished out as of yesterday afternoon.
The CPA formed a two-member probe body, led by Deputy Conservator Captain Faridul Alam, to investigate the matter.
Sources said a crane vessel was towing the barge "Terminator" loaded with the salvaged containers to a jetty at the New Mooring Container Terminal of the port on Thursday morning.
Salvage firm PS Salvage, tasked with recovering the containers from Pangaon Express that sank near Bhasan Char coast on July 6, was in charge of bringing the 12 containers ashore.
Ashraful Alam, managing partner of PS Salvage, said both the crane vessel and the barge were anchored near canal-14 of the Karnaphuli channel that morning and waiting for port clearance to berth at the NCT jetty.
However, around 9:00pm, a large vessel passed by, and its wave and the strong current caused the barge to hit a stone embankment and tilt. The containers then fell overboard.
The CPA issued a notice to mariners on Friday morning asking them to navigate with caution.
It also sent tugs and engaged its survey vessel Jarip-9 to locate the sunken containers.
All the containers are yet to be recovered due to what PS Salvage said was a technical issue with the crane, said a senior CPA official, requesting anonymity.
He added that the salvage operation started in the early hours of yesterday. 
Pangaon Express, owned by the CPA, capsized around 12 nautical miles off Bhasan Char on July 6 noon while transporting 72 import-laden containers from the Chattogram port to Dhaka's Pangaon Inland Container Depot.
PS Salvage managed to retrieve 23 containers from the sunken vessel last week.