Bangladesh, quo vadis?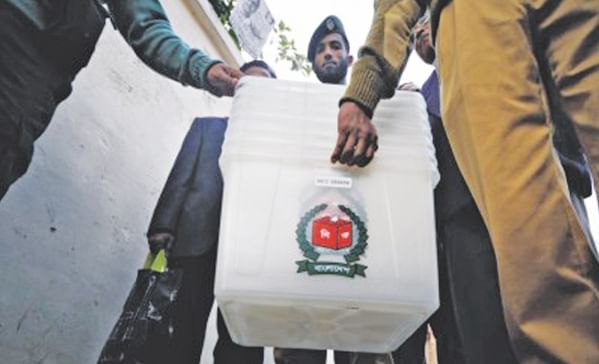 Star
Before, and immediately after the last general elections, the Awami League and its leader Hon'ble Prime Minister Sheikh Hasina pledged to the nation a better future in all respects—'Din Badal', as it was called. These promises were conveyed through speeches and statements, through the party manifesto, and through all types of media-communication. People, even beyond the AL circle, thought some change may take place, at least some improvement. People wanted betterment—people wanted progress—people longed for a state of goodwill and harmony. There was a dream. But that dream has been mercilessly shattered by the very same organisation, by the very same people—that developed it, that nourished it. Now, despite the deepest sense of despondency,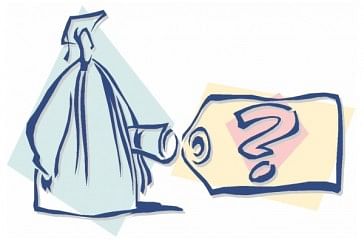 hope, which 'springs eternal in human breast,' slowly but firmly emerges. People look forward to an opportunity wherefrom a reversal of the downward slide may happen. And that is, hopefully, the next general election, provided it is fair, participatory and rigging-free. That can only be ensured if it takes place under an impartial non-partisan caretaker type interim government. A sense of determination has built up across the nation that this opportunity cannot but be seized. It seems that most people have taken a vow to prove that we are not a failed state as far as our ability to continue the democratic process of participatory general elections, thereby ensuring peaceful transfer of power is concerned.
The present state of affairs has developed over the last four years due to the abject failure of the present government to fulfil most of the pledges given and promises made by the party in power. The obvious malafide intention of clinging to power by 'hook or by crook', even by changing the constitutional provisions of the country by dubious means has rendered the democratic process fragile, shaky and uncertain.

The party in power, before the elections, pledged that if voted to power, it would change the political culture of the nation by being civil, understanding, tolerant and democracy oriented. But just the opposite has taken place. In public speeches, statements and even on the floor of the parliament indecent, even obscene and vulgar language is being used by the members and the party high-ups. The law enforcing agencies exhibit the least of tolerance. Opposition leaders are being harassed, intimidated, beaten up and jailed. Vocal BNP leaders like Ilyas Ali, Chaudhury Alam, and trade union leaders like Aminul Islam have been picked up by suspected government agents and they will perhaps never return.
Extra-judicial killings have become rampant, and are on the increase, despite warnings and cautionary signals from Human Rights bodies. Top terrorist Bikash has been released from jail reportedly on payment of very high bribe. Reportedly, 16 more terrorists are trying to come out in the same manner. It is further suspected that they may be used for terrorising opponents during the elections. Interestingly when Bikash was released, investigation agencies like SB (Police), NSI, DGFI, had no clue rendering it impossible to keep his track. International Human Rights Commission has accused the government of gross violation of human rights. The president, on the advice of the government, pardoned more than a score of condemned prisoners who had been sentenced to death by the highest court. What a mockery of the judicial system!
Ever since Awami League came to power, series of catastrophe and tragic events have taken place, coupled with its misdeeds. Every month there have been multiple happenings revealing the inefficiency of the government, corruption, utter disregard for law, order morality and absence of a sense of minimum decency and civility. The political culture has definitely plunged to a totally unacceptable level.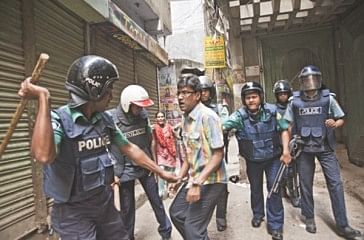 wahid adnan/ drik news
In almost every sector of national existence, there has been gross deterioration and failure. The government's inaction, against or even protection of the well-known plunderers who embezzled thousands of crores of public money from the stock market, and through the Sonali Bank-Hall Mark loan scam have been most condemnable. Besides, large scale financial scams in some MLMs, particularly in Destiny, chaired by an AL supporter sector commander, and a few other nationalised banking institutions have demoralised the nation and has exposed a very weak financial system amounting to almost authorised looting for party-men. In the election manifesto of AL it was emphatically stated that "Bangladesh Biman will be made a commercially profitable organisation. But high-level corruption and sheer inefficiency have rendered the national institution not only a highly losing concern, but a big farce as well. It is understood that in recent times, it has lost 500 crore and its debt amounts to more than 1800 crore of Taka. Even a cabinet minister (of some other ministry) has commented that "Biman now is an inefficient and incapable organisation", but forgot to mention how 'corrupt' it is. It is actually an example and symbol of government's utter failure to run a potentially viable organisation.
Similarly, in the education sector we see a dismal picture. Sessions jam problem has not been solved. Students halls are occupied by students' league activists. Teachers are humiliated. There is now anarchy in most of the higher centre of education in the public sector. Though there has been some improvement in the private sector and in primary education, the overall education sector in under the control of students' league cadres.
In spite of high promises, the government performance in the gas and the power sector has been disappointing. It is understood that now on the face of gas requirement of about 300 crores cft, the supply is about 220 crores cft. In winter, the requirement increases. So not only residential areas, but productive and industrial factories and workshops are facing a crisis. The quick rental arrangement for power production, enjoying unprecedented immunity, has been inefficient, costly and corrupt.
Yamin Tauseef Jahangir
The entire housing sector is threatened with collapse, new investment in the industrial sector, due to paucity and uncertainty in power supply has become extremely shy, almost nil.
This brings us to government's failure to initiate or facilitate industrial growth in the public sector or attract new investment, either foreign or domestic. There has been some growth in the private sector, particularly in RMG and agro industries, but the government has failed to activate either the Privatization Commission or the Board of Investment (BOI). In sheer contrast of the achievements of the Privatization Commission during the previous BNP regime, the Commission, under this government has made no contribution. The achievement of the BOI in dismal and totally disappointing. Except for undertaking some fruitless but expensive foreign travels and road shows the BOI has hardly anything to its credit. Though there have been budget allocations in the PPP (Public Private Partnership) sector, I am not aware of any project taken up for execution under this programme.
In place of good governance which was promised, there has been planned destruction of administrative machinery by making it politicised, partisan, corrupt and ineffective. Bribe-taking has been organised under the auspices of a minister directly and caught red-handed, and yet the incumbent has been shamelessly retained in the cabinet though without any specified portfolio. He is undertaking only political activities, at government expense. His presence in the administration is an encouragement to corruption, as is designating a former minister, dropped out on allegation of corruption, as 'patriot' by the head of the government.
The least said about law and order, the better. A new phenomenon, added to ever increasing extra judicial killings is alleged political abductions as referred to above.
Press and media are under intimidation, journalists like, Mahmudur Rahman, are being and harassed, bold outspoken senior respectable journalists like ABM Musa has been reprimanded.
Crimes, particularly against women, have registered a sharp increase. Mahila Parishad reported 446 such incidents in January 2013 only. Only mastans are, with impunity, openly killing man like Bishwajeet, setting fire in collage hostels, looting tenders, resorting to extortion, moving about in streets with firearms. Where is law and where is order? In the last four years there have been 432 extra-judicial killings, 273 killed in police custody and 75 abducted. An unprecedented record of brutality.
The government's utter failure to control and contain tragic happenings in Ramu cannot be condoned.
There were election pledges for reduction of consumer prices and increasing employment opportunities. Failure in this regard has been total. Rather, high prices of consumer goods, fuel, and daily necessities have rendered life extremely difficult.
It doesn't seem that any coherent policy has developed in defense and foreign affairs. The Hon'ble Prime Minister recently visited Russia and concluded a purchase deal of defense equipments worth thousands of crores. There has been no discussion on this either in the parliament or in the ministry. Was it on the basis of any requisition given by the defense forces? Nothing was made clear regarding the terms of purchase, pricing mechanism, availability of spare part etc. Till now, to the best of our knowledge, mostly Chinese and US equipments are in use. No one knows, if this would give rise to some Bofors style scandal in future. Are these meant for protecting our borders? Whom are we going to fight against with these?
The government has failed to protect our citizens at the border. Indian BSF have killed a few hundred unarmed Bangladeshis. No protective or counter measure was being taken. And, as is the general diplomatic practice, a strongly worded note was not handed over to the Indian High Commissioner. Rather, one of our senior ministers reportedly said that the Indian BSF kill only in self-defense. People killed are normally unarmed cultivators toiling in their land near the border, fishermen fishing in common rivers, cattle traders, minor businessmen, or innocent girls like thirteen-year-old Felani whose dead body was kept hanging for hours on barbed wire as a proof of the "might" of our neighbour. BSF often cross the border and forcibly take away Bangladesh citizens, and the government fail to protect our territorial sovereignty.
On what terms the government is permitting Indian transit are not known. What is the compensation? Till now, there has not been any satisfactory response on Tipaimukh multipurpose Dam and no agreement on Teesta water sharing, which India is withdrawing unilaterally. Even after all the "friendly talks and mutual visits", Bangladesh TV channels cannot be seen in India, but Bangladesh sky is wide open for Indian exploits.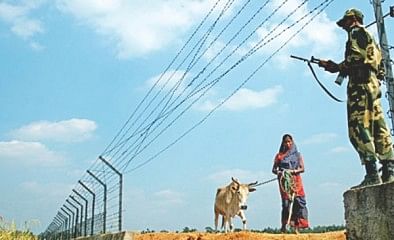 The government stands discredited, both nationally and internationally for the absurd and unacceptable attitude towards the globally acclaimed Grameen Bank and its founder Prof M. Yunus. Government's efforts to interfere with the Grameen Bank, many people say, are to say the least, mean and self-defeating.
The government's incredible Padma Bridge fiasco has been suicidal. Construction of the bridge was Awami League's priority project and one of the topmost pre-election projects. But detection of highly organised conspiratorial corruption at very high places made the World Bank take a very unusual step. It cancelled the 2 billion dollar contract, and so did the co-financiers. WB was prepared to reconsider its decision provided the government and the ACC took sincere and effective measures to check corruption and bring up the culprits on the dock. The suspicion of corruption even involved the highest in the government. The governmental efforts to save the skin of the powerful were painfully apparent, consequently, the IDA loan was gone and the other financiers like ADB, JICA and IDB followed suit.
Ministers are on record saying that the governments of Malaysia and China have shown interest and that India may also come in. They also expect that subsequently other donors will also join. What a foolish idea! Big financiers would always like to be involved at the planning stage. If now the government, as reported, review change and make its own new plan (with or without rail-link), how can it expect that other financiers will come and make big investments in a project unknown to them. Moreover, the cost of finance will be commercial and prohibitive. Ultimately, it will have to be borne by the poor taxpayers of Bangladesh. All other development projects and efforts will suffer on account of this, as the bridge project will warrant big transfer of resources.
It is high time government leaders stop talking 'rubbish' on the Padma Bridge. It is an important development project involving about 2% estimated growth in GDP.
AL government has now announced that the bridge will be constructed with "own resources" and that too within three years. What is the total fund requirement? Will the design and the plan remain intact? We have to bear in mind that in the last four months about half a square KM has been eroded in Mawa, Munshiganj in the project area. The river training work has not yet been initiated. The old launch ghat has been shifted to Kumarbhog and there is erosion in the Bus Stand and Ferryghat areas. In the absence of proper river training, areas in Shreenagar in Munshiganj and Medini Mondal, Kumarbhog, Jasalia, Kandipara, Anantsar and Dukachi areas of Lauhajang are threatened with erosion which might eventually compel design adjustment. 1124 hectares of land is expected to be acquired in Munshiganj, Shariatpur and Madaripur districts causing loss of homestead land to 4975 families and agricultural land loss to 526 families. According to press reports (Prothom Alo-22 December 2012) (Source IMED—Bridges Division), estimated recipients of compensation are 76211 persons out of whom, till September 2012, only 9105 persons have received compensation.
Though the affected people were promised, in some cases, plots of land as compensation, only 5 persons have received allotment so far. WDB has already asked for 350 crores Taka for taking immediate steps to stop erosion. The government has declared that the construction package will be announced by the PM on March 2. How can it be done without being sure about the final design, and alignment?
The Finance Minister in his letter to the Presidents of ADB, JICA and IDB dated January 31, 2013 wrote "in order to reduce cost we are looking at the possibility of redesigning only a road bridge for the present. We have already invested on land acquisition and resettlement and the job is complete." Is it a correct statement?
Investigative press reports (Prothom Alo-Dec 22, 2012) emphatically deny about the claim on land acquisition and resettlement. It is understood that only ONE person has been resettled, and only 5 to 6 % of the work has been done in the last four years. Subsequently, the government has said that the design will not be changed and the proposed rail-link will be there. The government does not seem to be sure about its own intention, and not only that different ministers are saying different things, the same minister is also making contradictory statements.
From my own experience of dealing with the multilateral and bilateral (development partners (donors) as Secretary ERD, both at the time of negotiations and signing of Jamuna Bridge agreements, I can say, all prospective partners or donors would like to associate themselves at the planning stage if possible, and would definitely want to be certain about the project where they would make investments.

It is understood that the government is contemplating convening a meeting of prospective donors (except WB) in the near future, but what would be the brief? Government once called for creation of a Padma Bridge fund, but the response, I understood, was only a few lac of Taka and about 1000 dollars. The DSE plan appears to be unrealistic. It has been said that Malaysia and China would be interested, and India may show indirect interest. In case of India, I think the government spokesman has in mind the uncertain loan that India had already promised in the Railway Sector. This may become very costly. The Malaysian proposal, as it was understood, was on commercial terms. I do not know anything about the Chinese offer or whether China has at all shown any interest or made any offer.
It appears that the government has already relaxed the serious investigation that ACC had earlier proposed to do in the alleged bribery case. Two primary accused have already been released on bail and an Adviser (about whom the WB had reservations) back again to his job. There seems to be no chance for the ACC to include Mr. Abul Hosain in the list of the accused, without whom it would be impossible, both factually and legally, to implicate the secretary. Under such circumstances. I feel that it is most unlikely that ADB, JICA or ISDB would return. The government party has already said that they want to hurry through for fulfilling their election pledge. What a price the people are going to pay for it!
This cancellation or withdrawal of assistance by the prime donors will definitely have adverse effects on our external economic relations. Some of the donors have already said that they would like to more carefully monitor execution of their aided projects. This attitude will be detrimental for expeditious implemantation. Secondly, cost of fund from new sources will be very high. Just to give an eye-wash to the electorate, there is no necessity of hurrying through. What the government may do now is to adopt an expensive implementation structure, spend money hurriedly, where again there will be corruption, and nothing great will be achieved.
Some people say that we can manage without World Bank assistance, and that the Bank has too much of a big-brother attitude. Even if we go about constructing the bridge without WB aid, what will happen to other projects? We have to be circumspect and logical. The best think for Bangladesh and for its development agenda would be to (a) try to complete the investigation in a sincere and proper manner – (this will ultimately affect all our foreign aided projects); (b) stick to the original design; (c) complete the original own-resource-based part of the project like land acquisition, approach road and preliminary river training in the two ends; (d) and then again approach donors like WB, ADB, JICA, and ISDB wherefrom the lost of finance would be tolerable. The appointment of the main contractor and supervisor may be done after a while by following the usual manner. If the bridge construction is started in undue haste and in an irregular manner, no donor of substantial nature will come even subsequently.
In any case, AL government has failed to implement all their promised mega—projects like—deep sea port, Metro Rail, Bangbandhu Airport (Subsequently seem to have been abandoned, and rightly so), elevated expressway, capital dredging of 53 river routes, Shittle river route, four lane Dhaka-Chittagong highway, land digitisation coal city and coal development etc. The list of failures could not have been bigger. The government now, instead of trying to play to the gallery by making ill conceived expenditure in the Padma bridge project, should go in for one or two other mega-projects. That would be more profitable for the economy.
We understand that the IMF has now suspended release of their second tranche and one of the reasons for this is the sudden big defense purchase from Russia, which to say the least, has not at all been transparent. This would again give rise to a crisis. A record high 1600 crore dollar foreign aid is now stuck in the pipe-line. With all these difficult problems the AL government has again re-opened the Pandora's box regarding the method for holding the next general elections. They should very well know that no fair, participatory and acceptable elections will be held with the AL in power. It has to be a non-partisan care-taker type interim government. Not only the parties in opposition, but the civil society and the people at large are also convinced of its unavoidability.
The only way out this impasse now is for the AL government to agree to installation of a non-partisan care-taker type interim government to oversee the elections, and with that end in view initiate talks with the main opposition party-BNP. Otherwise, history will hold the AL leadership responsible for the confrontational fratricidal situation that is certain to emerge. The system of a non-partisan interim government for overseeing the general elections was agreed upon by all the political parties. The AL government hurriedly, and without any consultation, changed it to suit its own interests. Now, it is the prime responsibility of the Awami League government to ensure free, fair and participatory elections and non-partisan interim government is the only answer. Members of the interim government should be disqualified for contesting general elections or any subsequent bye-election. Our experience, the suggestions that emerged and the lessons that we are supposed to have learnt in mediating political conflict in a confrontational environment in the mid-nineties should stand in good stead in this regard.
That the people, particularly the younger generation will not tolerate any betrayal or wrong-doing from political parties acting to suit their own short-term interest of power-seizure has been crystal clear from the great spontaneous epoch-making outburst at the Shahbagh Square. People rejected the dubious dealings of political parties. People suspected an underhand deal between the AL government and the Jamaat-e-Islami over the tribunal judgment in case of Abdul Kader Mollah. This has been indicative of the lack of confidence in the actions of the authorities concerned.
Writing under the caption spring in Shahbagh Arif Iqbal Khan wrote in DS on February 9 -- "Common people are disillusioned by politicians' lofty promises given before elections only to be forgotten the day after". The same day, the DS editorially commented, "The underlying message of the Shahbagh movement sparked events throughout the country is not only seeking justice against the perpetration of the genocide of '71, but also the 'Sonar Bangla' of the dream of our martyrs, which can only come with clean and corruption-free politics, accountable government and transparent administration."
This is our hope. This is the light that the new generation has enkindled in the current gloom and darkness.
...........................................................................................
The writer is a Adviser, Chairperson, BNP.